Check out the fabulous projects and techniques we will be exploring all year in Polymer Clay Adventure 2019!
USE YOUR AMAZON GIFT CARD to sign up!
All links below!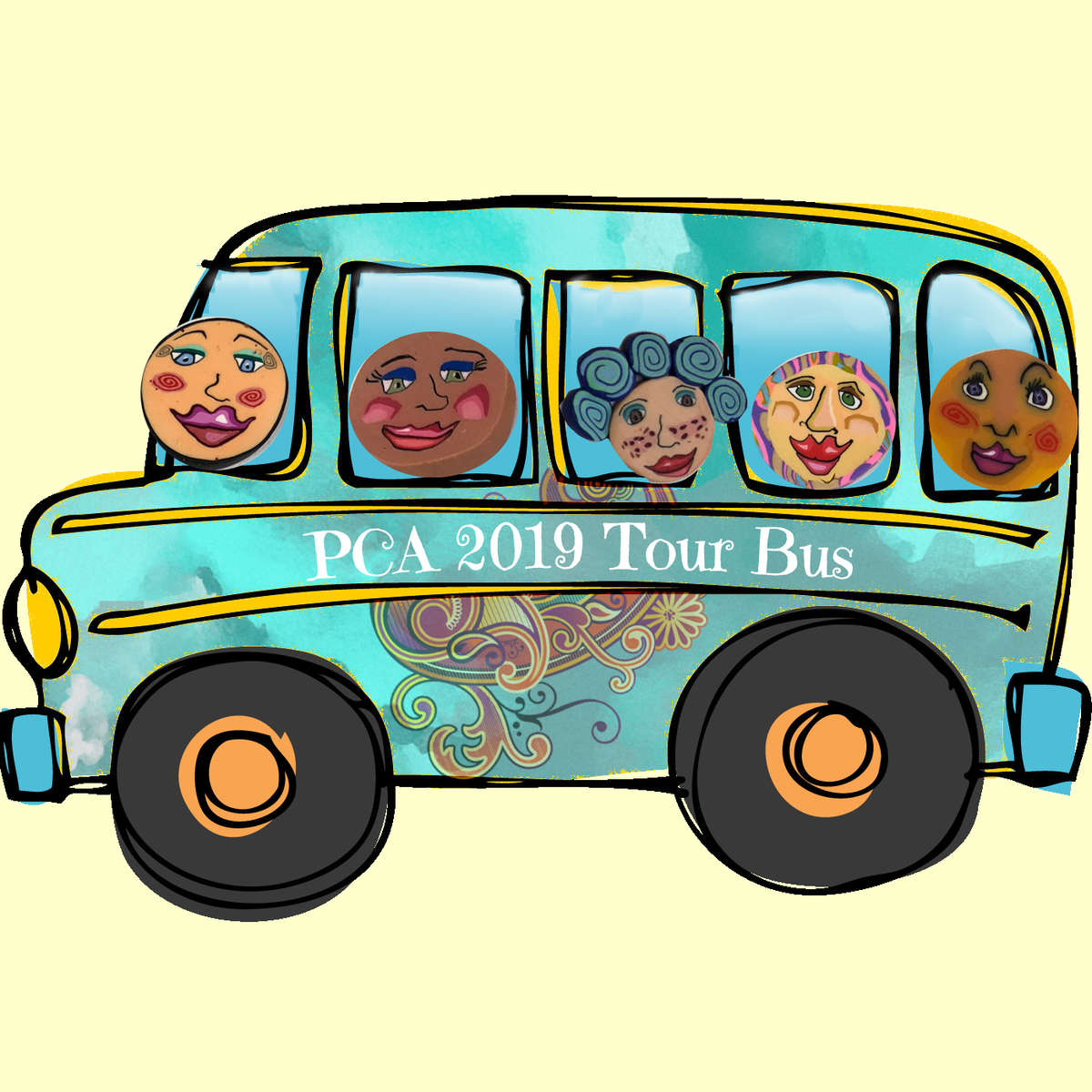 Do you want a supportive community to help you practice art regularly while learning new techniques through step-by-step videos
and PDFs?


Do you want to meet people who share your desire to get clay under your fingernails and introduce you to new ways of working?


Do you want to feel always inspired and FULL of ideas?


Do you wish you could take classes from top instructors from around the world... but the cost of travel to retreats and classrooms is too high
or takes too long?


Do you want or need to stay home but still LOVE learning?


Do you want to stop falling down the rabbit hole of scrolling down YouTube, Facebook, Instagram, and Pinterest, looking through a mix of
random tutorials but not knowing where to start... or worse, NEVER getting started at all?

Go straight to PCA at this link
Are you signed up? Looking for access? Make sure you are LOGGED INTO the website, then click. (you can't see the content if you're not a logged in member!)
Go Straight to PCA 2019
Your Classes: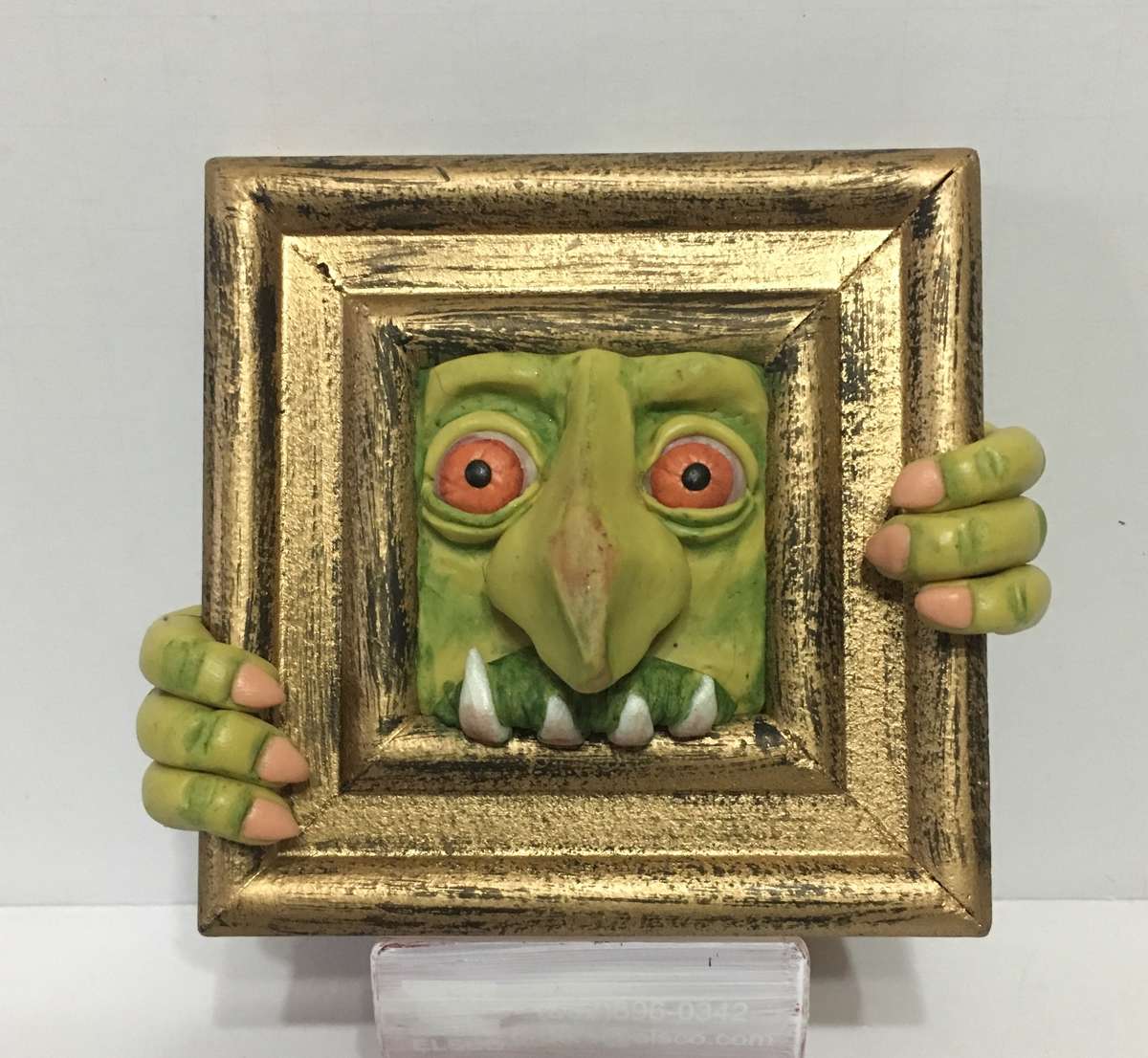 Little Monsterpieces
with Amy Hucks
We all have those family members that just dont fit in, but we love them no matter what! So lets display their portrait proudly on the wall. Free form sculpting a monster face in a frame!

Techniques:
Sculpting a Face
Using props
Baking more than clay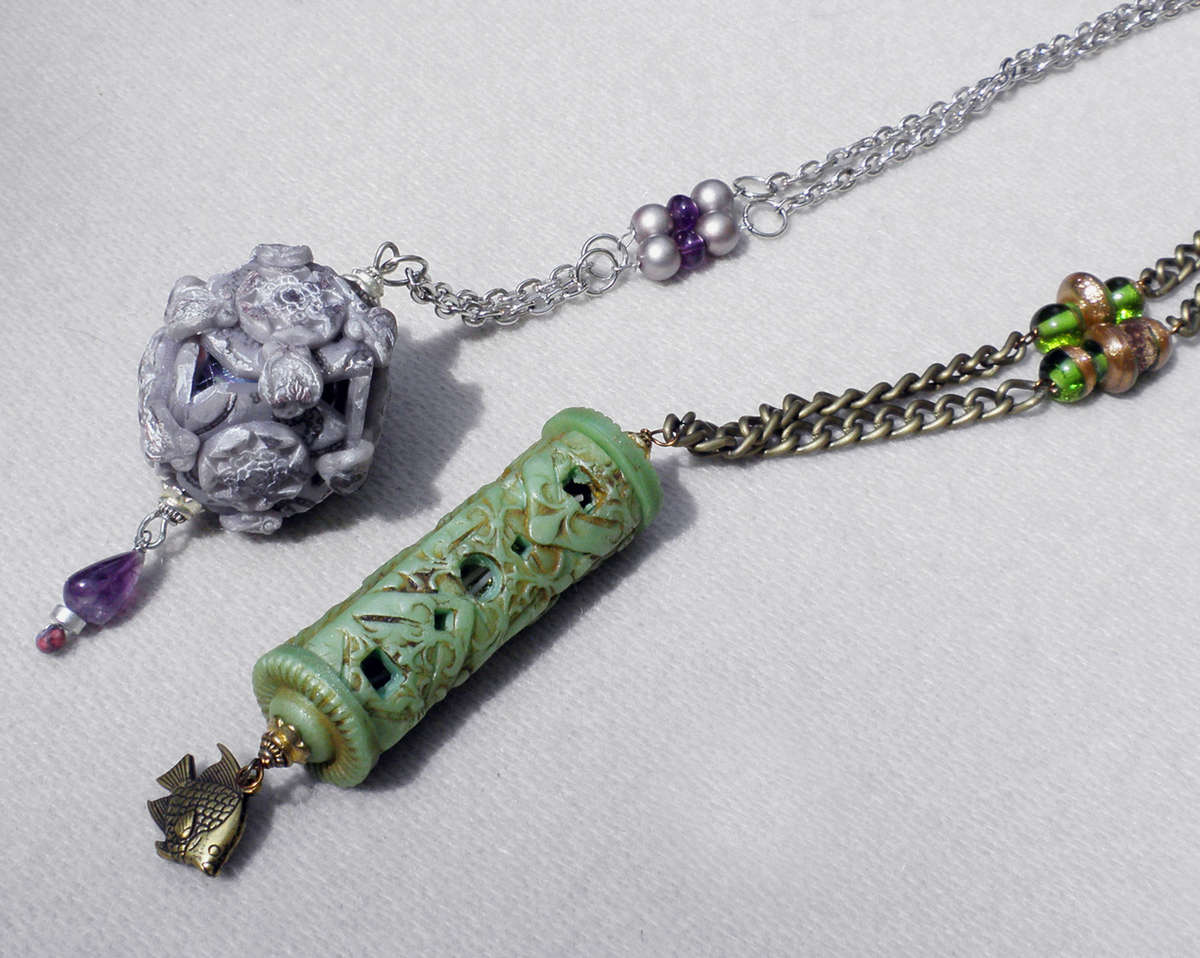 Pomander Pendants
with Suzanne Ivester, The Polymer Chef
Polymer Art Meets Aromatherapy
In this workshop, you'll learn to make hollow pendants that can be opened and closed to contain fragrances or a prayer or talisman. You can choose from eight color recipes to create pomander pendants in two shapes: cylinders and cubes. You'll also learn how to add chain, beads, and charms to personalize your unique pendant.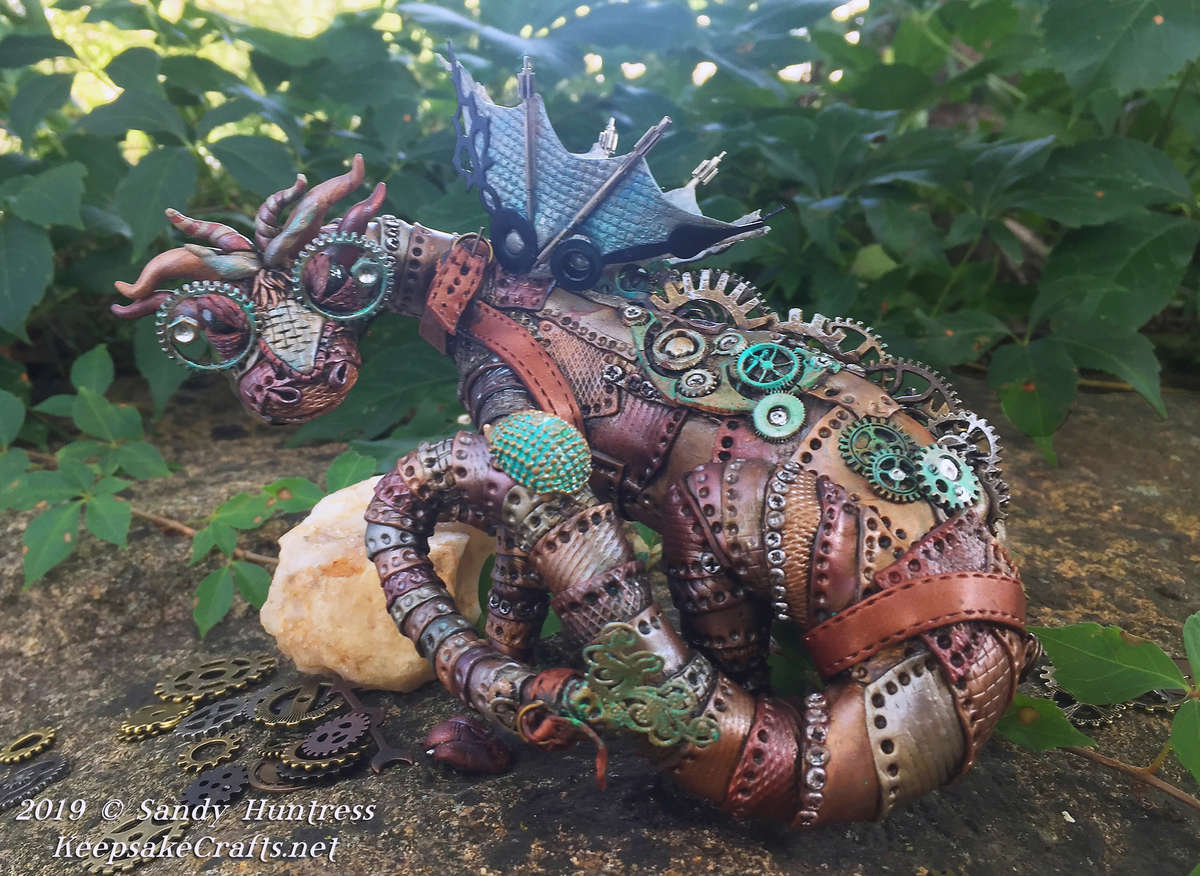 Steampunk Dragon Sculpture with Sandy Huntress
Learn how to create your own version of one of Sandy's most popular sculptures: the steampunk dragon. In this class we will cover all the steps in this very detailed project starting with where to find inspiration for the attitude, mood and pose of your dragon. You'll get lots of ideas for props, inclusions and extra things you can add to your creation. We'll then start by building an armature that will be the skeleton for your dragon's body. You'll learn how to build it and get tips and tricks along the way for achieving exactly the look you want.After that we'll add all sorts of fun details including faux metal plates, a variety of steampunk gears, and the coolest looking wings. You can even give your dragon its own brass goggles if you like.We'll also look briefly at how gears in a clock actually work. Nothing too technical, but it will help us get a more realistic effect.Along the way Sandy will show how to correct problems, personalize your project and give design tips so that when are you done you will have an amazing piece of art!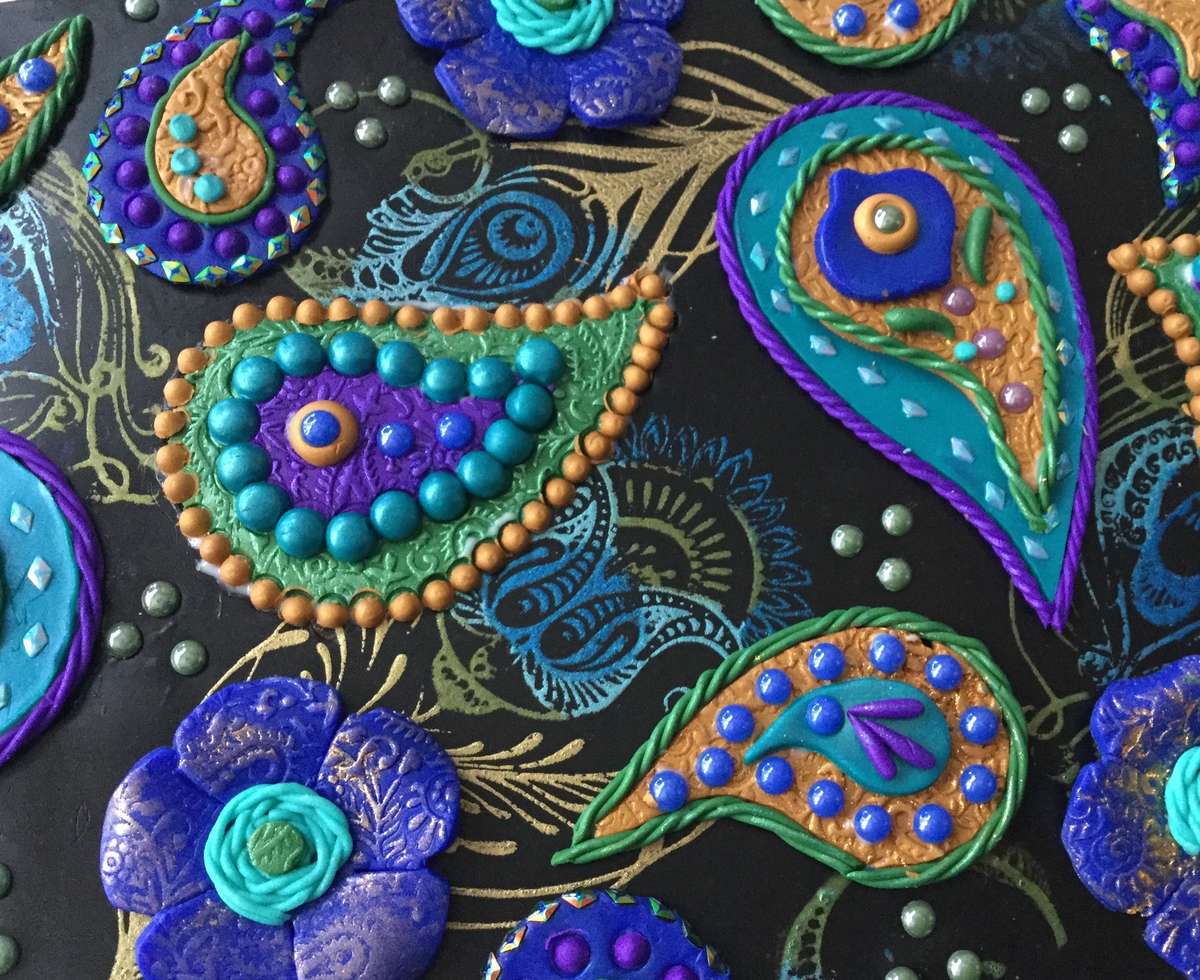 Peacocks & Paisley Veneer
with Cindi McGee
Learn to create a highly detailed, textured veneer which you can then use for beads, journals, magnets, and so much more. Multiple techniques will be shown including silkscreens, sculpture, onlay, embedding and adding hotfix stones.
This year we will have POPUP Classes! We have a couple planned for you and we will create more as we see a need to help you with any questions that come up.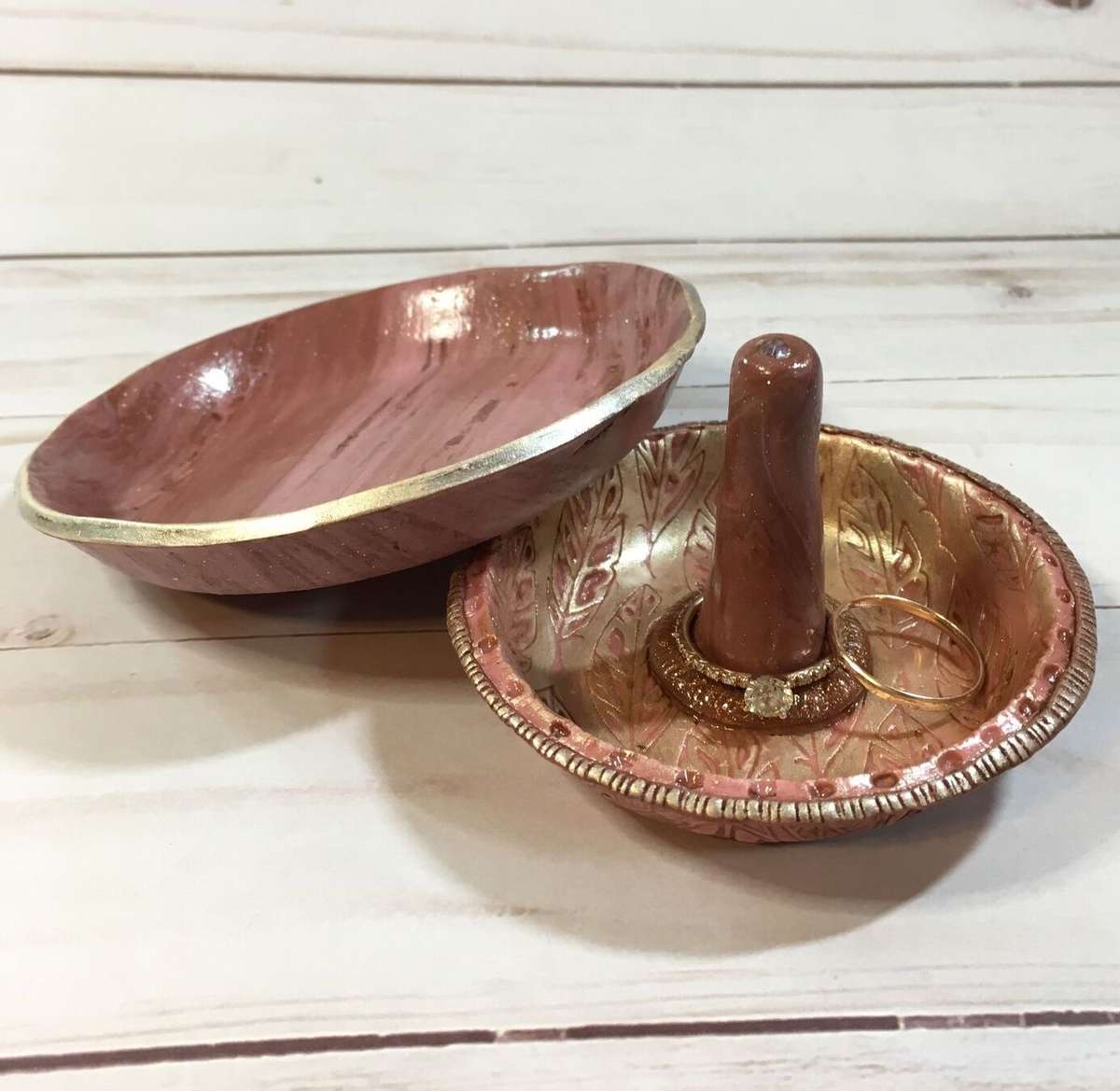 Embellished, Nesting Trinket Dishes
with Jessica Mount
Various techniques for creating embellished trinket dishes and ring bowls.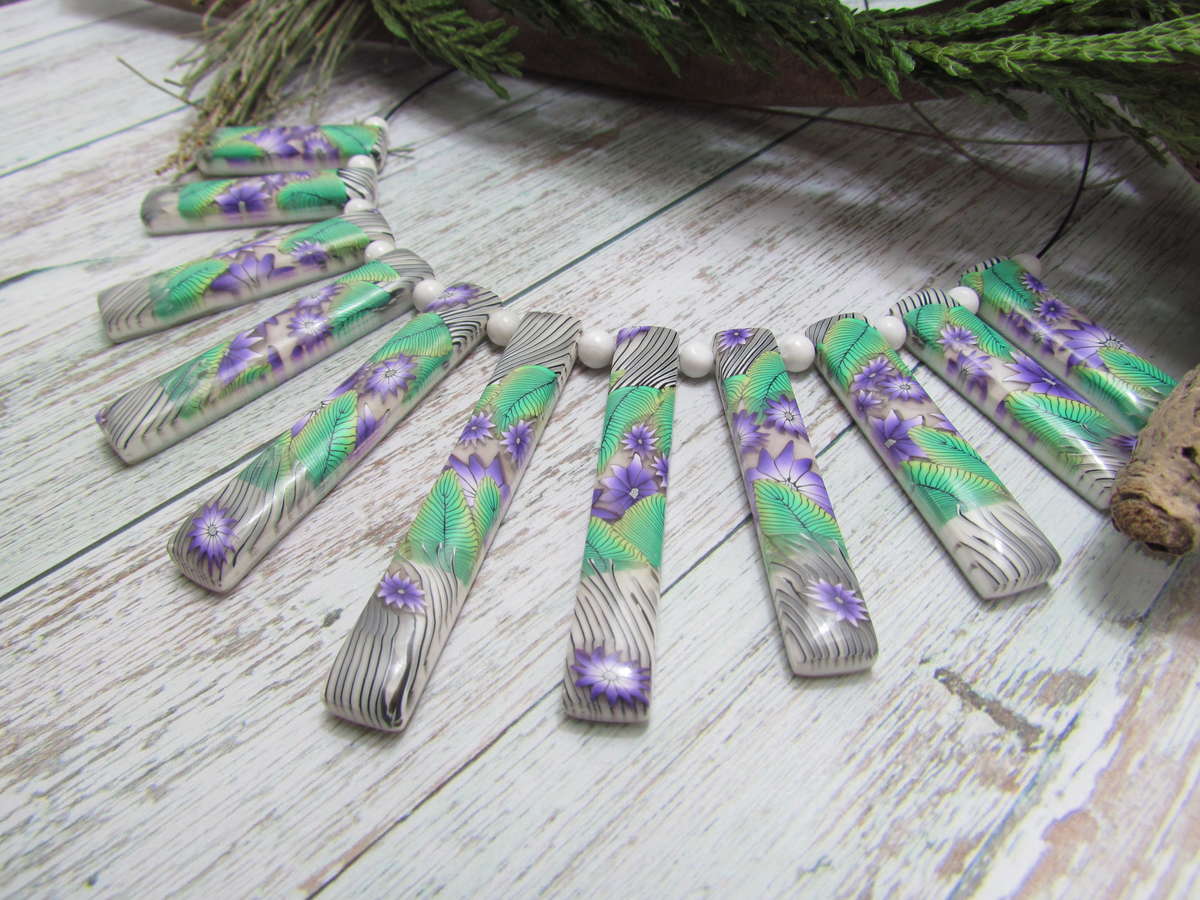 Graduated Caned Bead Neckpiece
with Samantha Burroughs "Jessama Tutorials"
In this tutorial Samantha shows you how to create three canes (a daisy, a leaf and a translucent grass cane). She also shows you how to create a cool veneer from them and how to turn that veneer into perfectly finished beads.

The techniques shown in this tutorial can be changed to create an entirely different look and so are very versatile.

Samantha explains the process step by step and includes tips and tricks along the way so that you can replicate the project perfectly along with being able to change it up to make it all your own.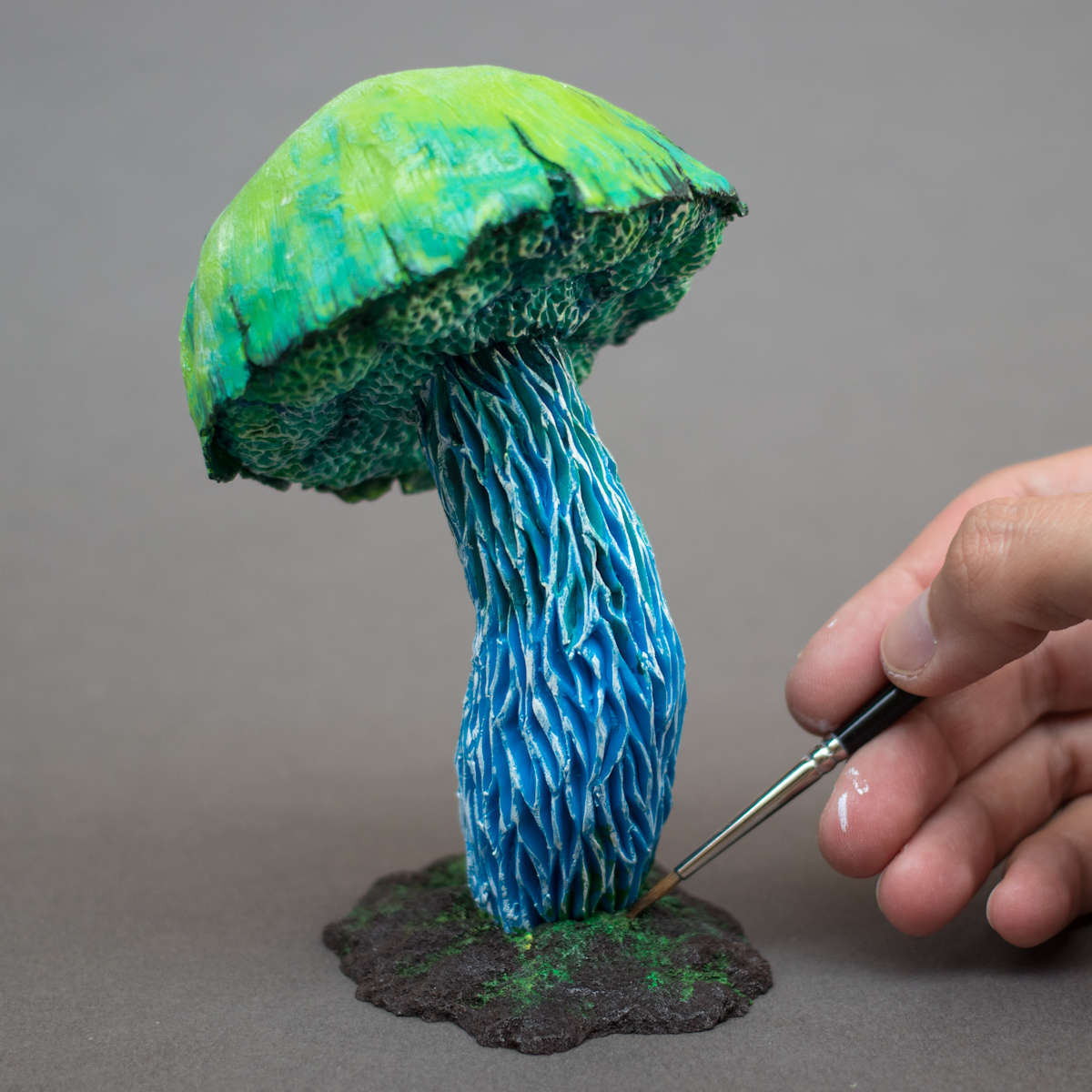 Magic Mushroom
with Stephanie Kilgast "petitplat"
Learn to sculpt a detailed mushroom with intriguing textures in bright colors.
An intuitive approach to colors that is accessible to beginners but interesting enough to catch more advanced sculptors as well.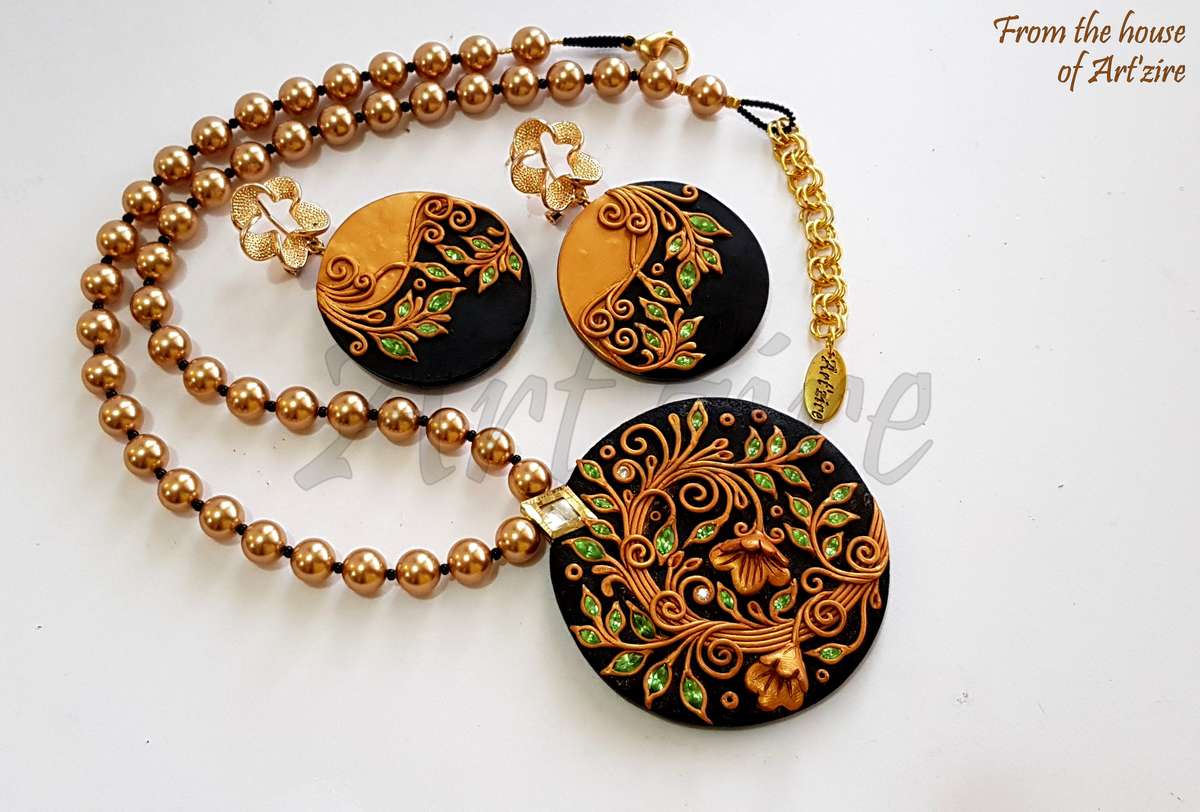 Jadua Style Jewelry
with Pritesh Dagur "Artzire"
Jadau (a Hindi word for 'inlaid') is an ancient and intricate Art form, believed to have been brought to India during the Mughal invasion. Over time though, India has embraced the Art form and is practiced largely in the Westerns states of Rajasthan and Gujarat. Original Jadau work is done using gold and diamonds and can be quite painstaking to create. A recreation in polymer clay, however, is a lot more accessible. This tutorial attempts to create the splendor of Jadau style of jewellery making, using polymer clay, mica powders and Swarovski crystals. Step by step, very intricate patterns can be created.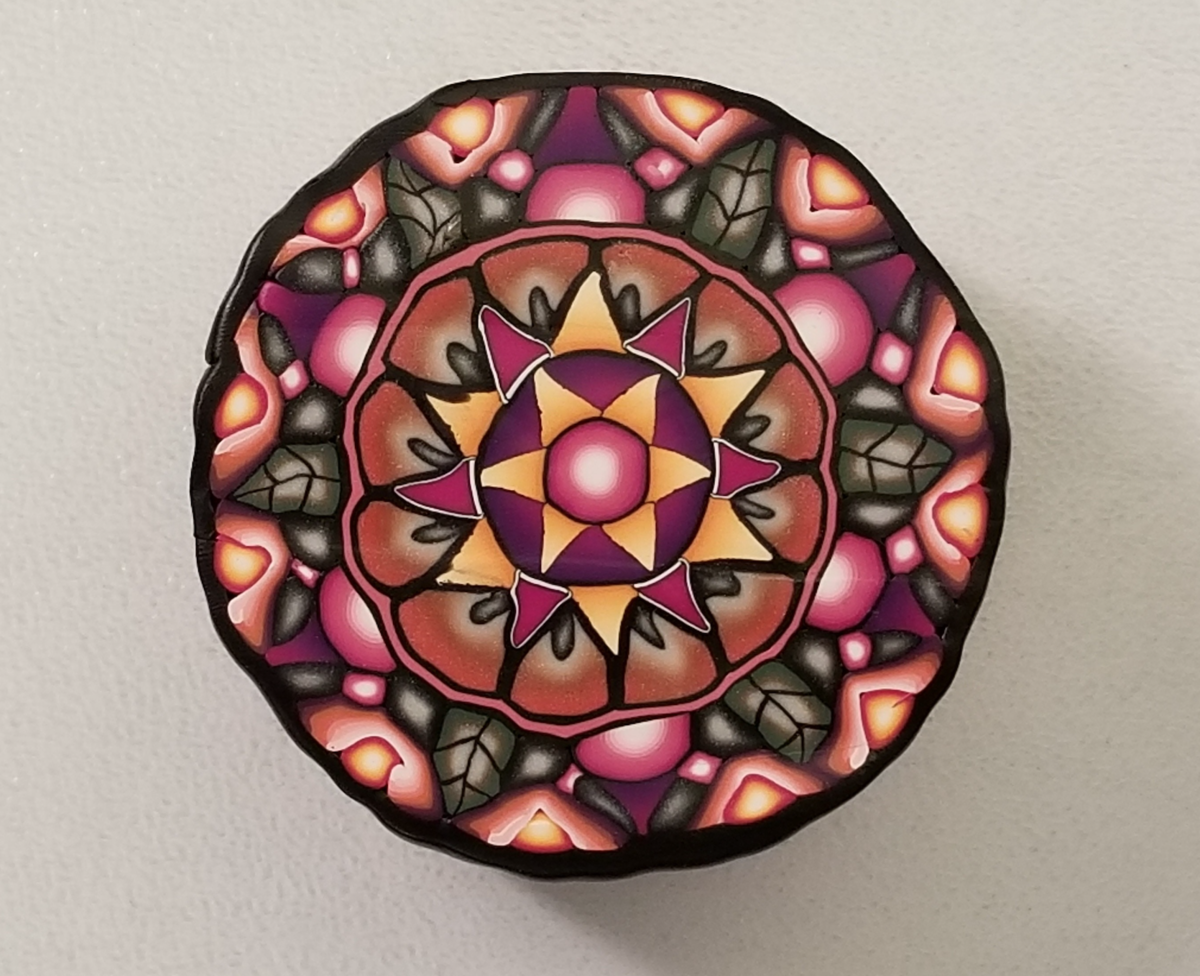 Autumn Love Mandala Caning with Sherri Thompson
Learn to create all the parts and pieces for intricate canework, done in an easy way from a master caner.

This project will be so fun to share- since typically in a caning class, everyone's canes come out differently. We might even swap slices!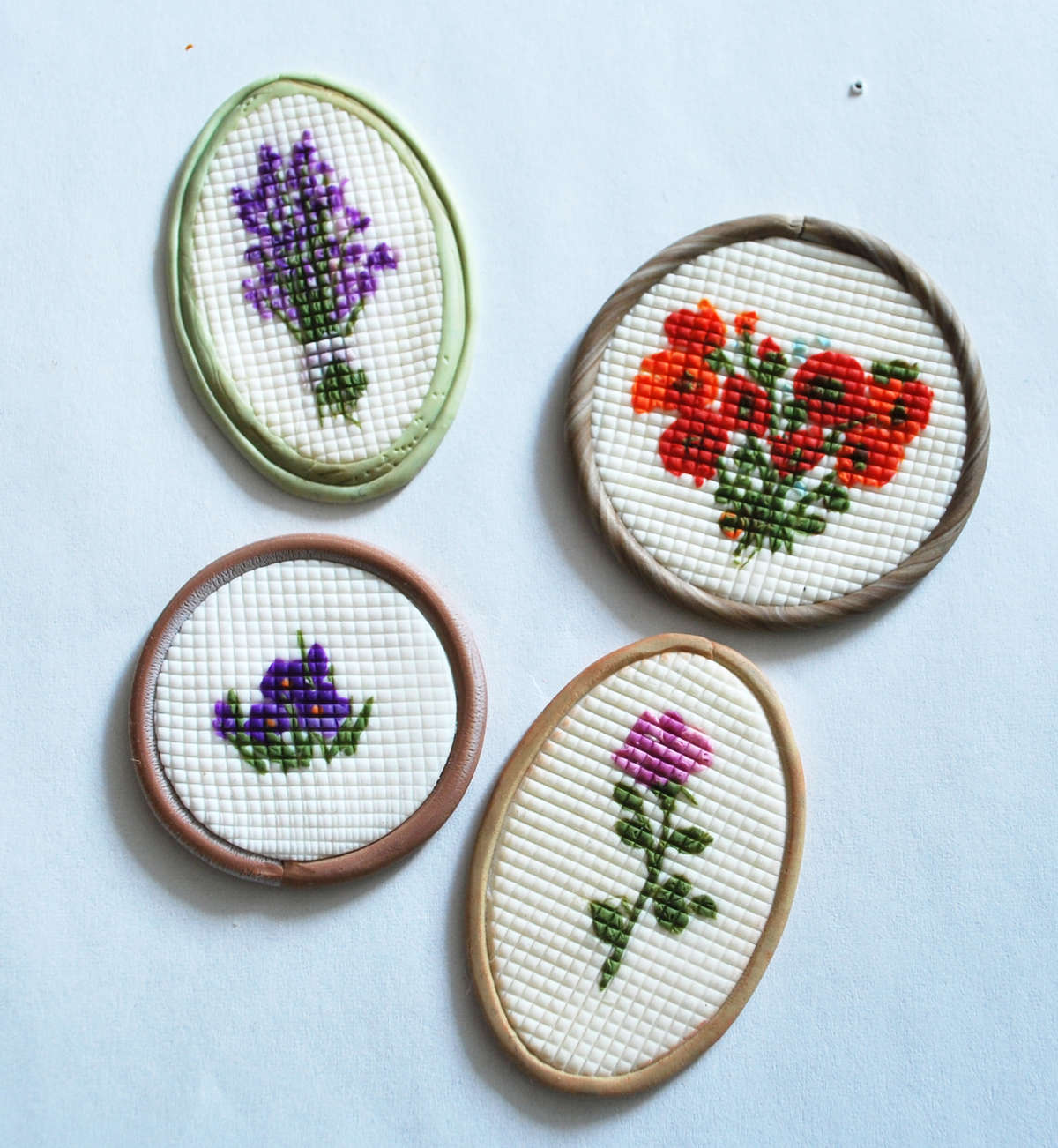 Cross Stitch Polymer Pendants with Panarili
Cross stitching is one of my first crafts I learned. I think I was about 6. About 30 years later, I learned to cross stitch with polymer clay, and I think it is a beginning of series of interesting projects one can make using this technique. Very few tools, some time and patience and PC cross stitch embroidery pieces are ready! Follow and enjoy!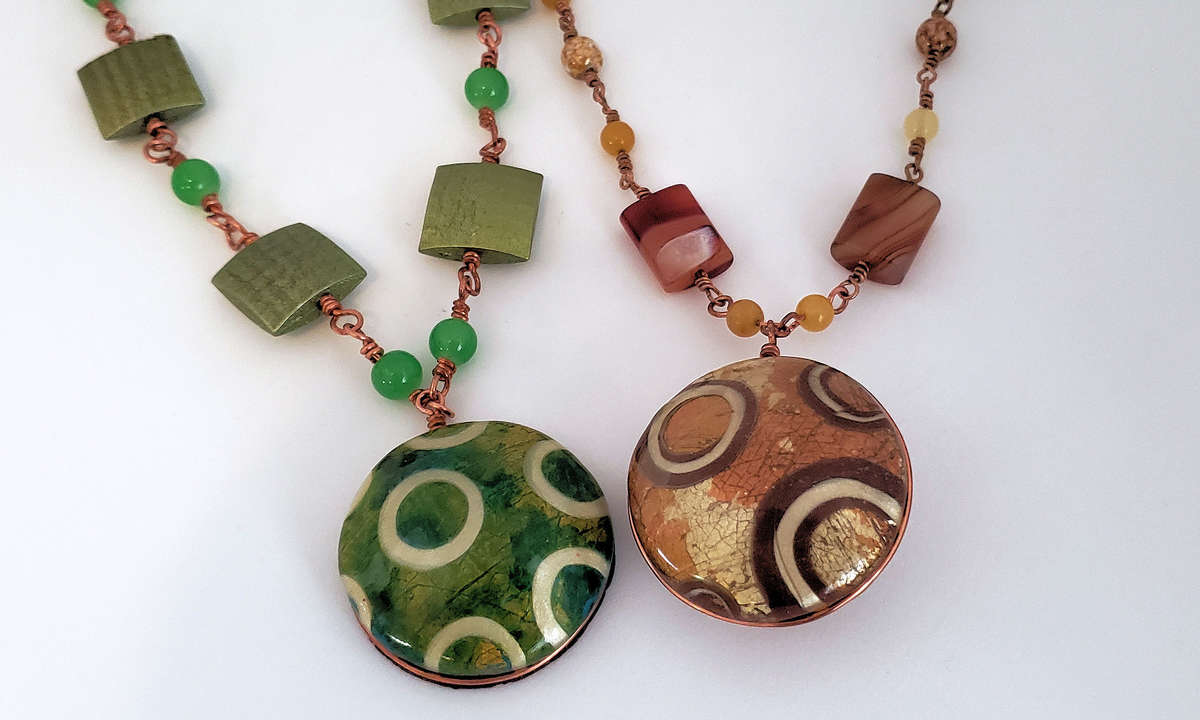 Grooved Bubble Beads
with Cynthia Gougian
This tutorial includes instructions to create two types of grooved bubble beads. These beads are very easy to wire wrap, and this a great project for beginner wire wrappers. The tutorial also includes directions to complete two beautiful veneers, and complete instructions to construct a wire wrapped necklace.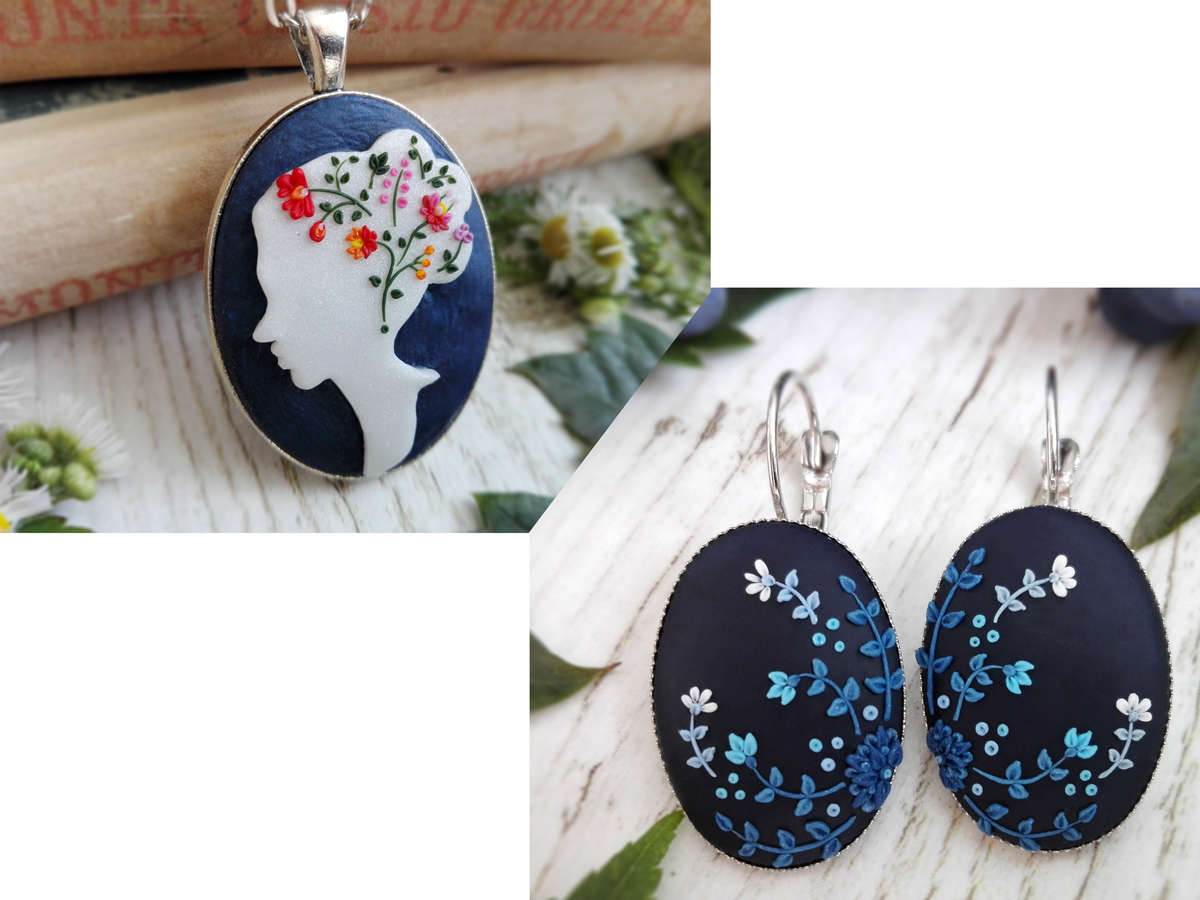 Polymer Embroidery
with Polina Foteva
Project One is a pair of earrings. Created in shades of blue, it resembles an enchanted flower garden glowing in the night.

Project Two is a folklore inspired pendant. It unites the elegance of the female silhouette and the beauty of the traditional Hungarian floral motifs.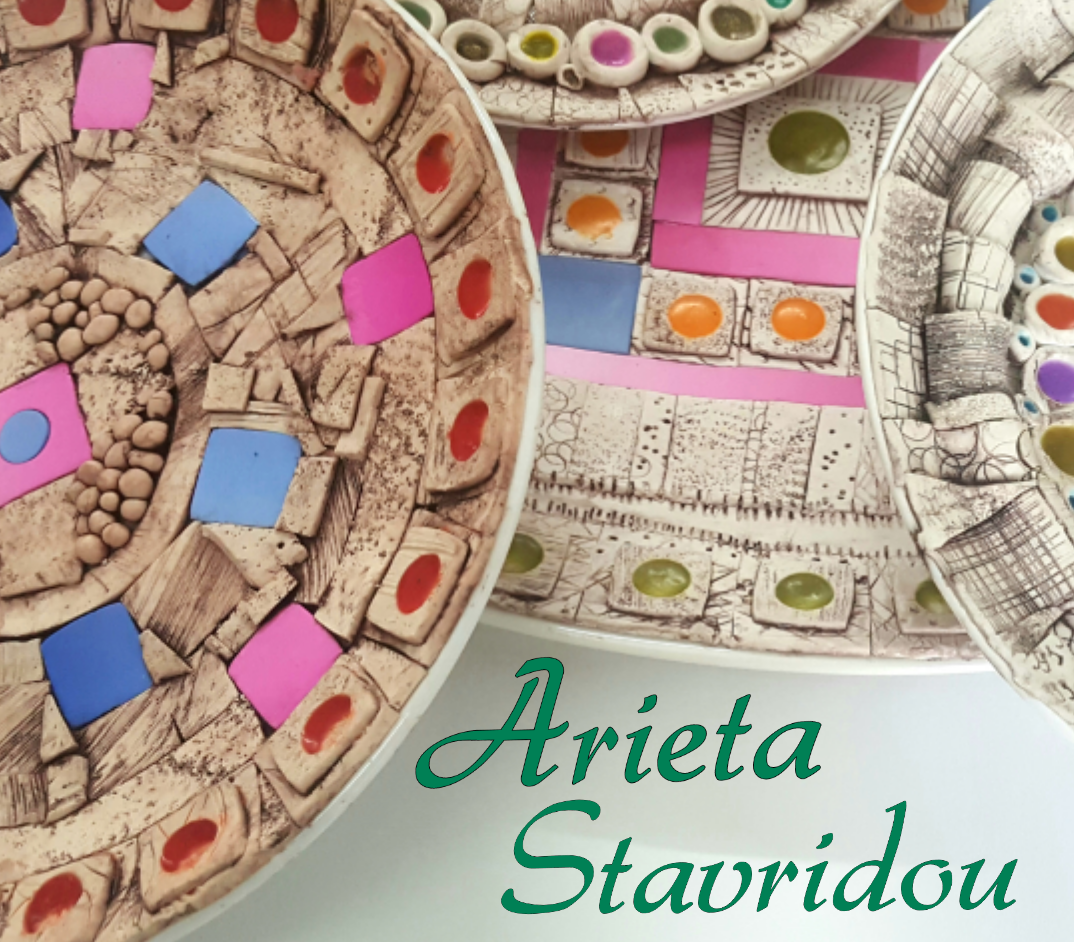 Textured Mosaic Plates
with Arieta Stavridou
Simple techniques and shapes come together with texturing, inlay, onlay, and working within the confines of a circular shape to create beautiful works of art that you can create with your own favorite colors.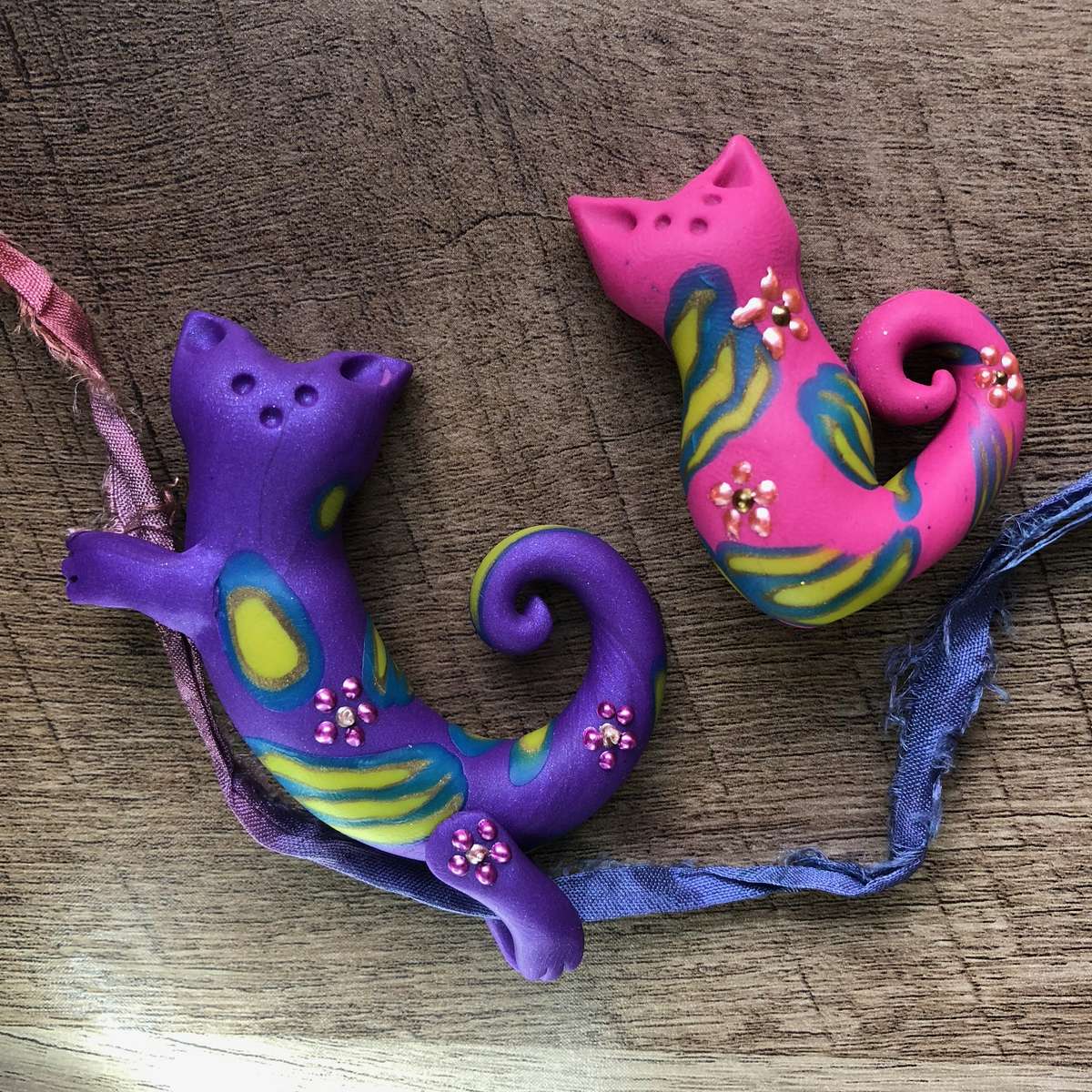 Caned and Sculpted Cats
with Kira McCoy
Learn to make the most simple, quick canes and use them for surface patterns. Then create cute and easy cat shapes and turn them into beads and sculpture!

Learn about other fun surface decorations you can use with your polymer clay after baking, too.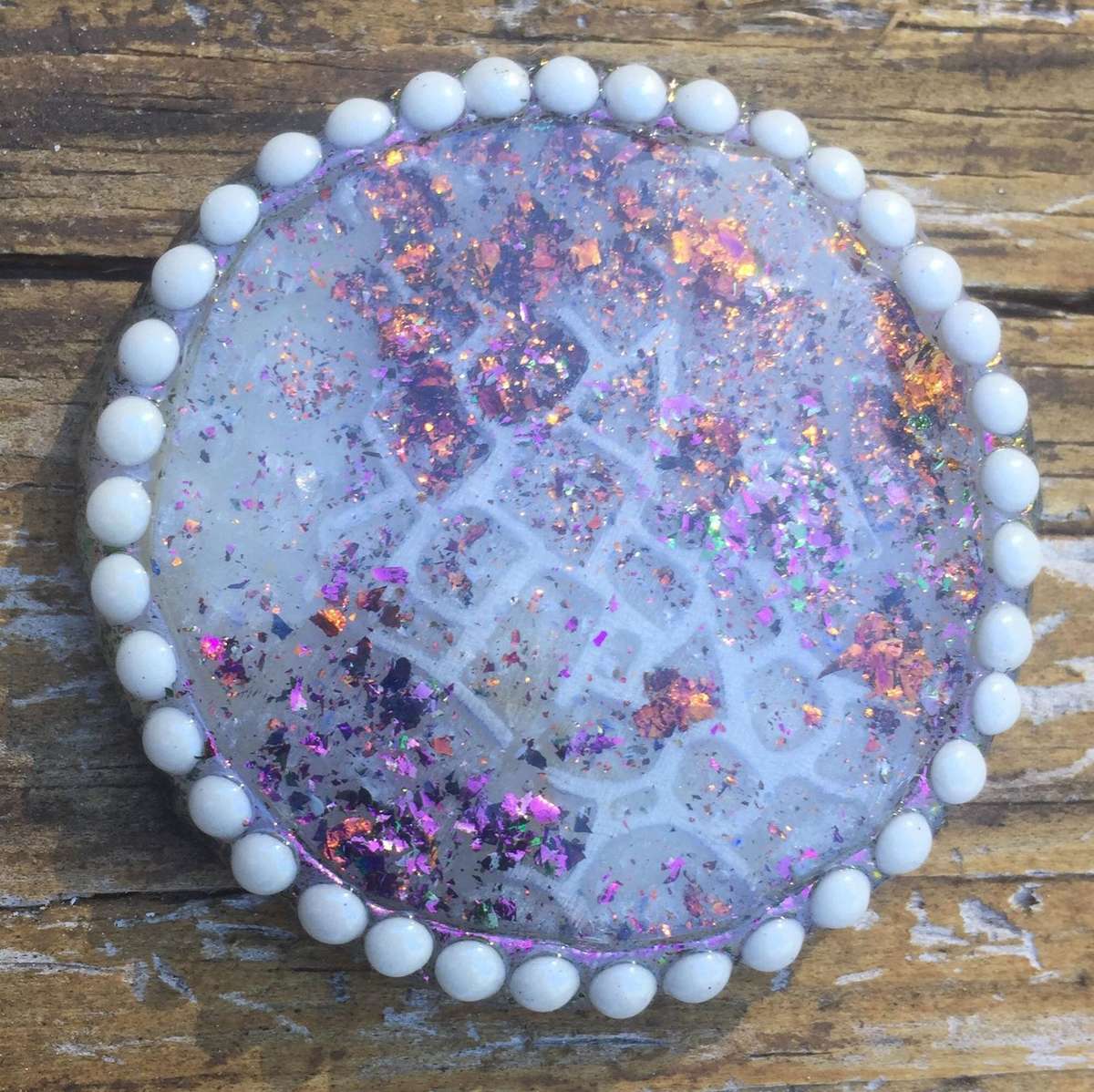 Shimmer & Shift Texture & Veneer
with Ilysa Ginsburg
Use liquid polymer clay and various embellishments to create veneers you can use to create jewelry, art objects, and more.
Meet your hosts!
We created PolymerClayTV as a podcast and videocast back in 2007 and have been publishing fun tutorials on Youtube weekly since then. In 2015, we knew we could put together a fun collaborative community classroom to introduce students to lots of techniques all in one spot, without having to leave home.
The idea for an Online Art Retreat for polymer clay was born, and we called it Polymer Clay Adventure.
We are here to act as guides, cheerleaders, customer care, and more.
We are so excited for you to come on this adventure with us in our 5th year!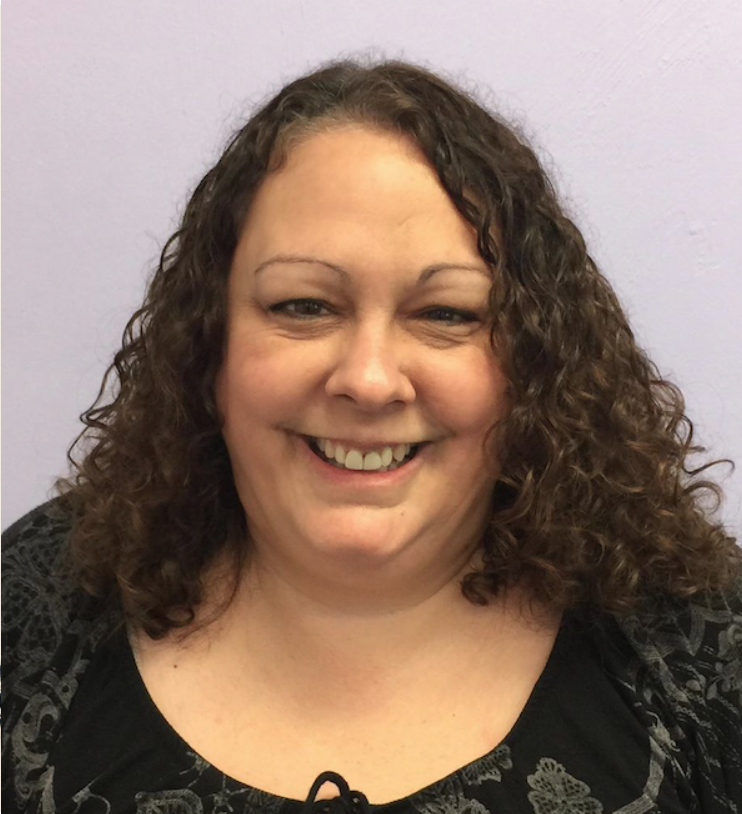 Ilysa has been an artist since she was young, and has travelled the U.S. selling her funky polymer clay creations in art shows, winning awards all the way up to Best in Show.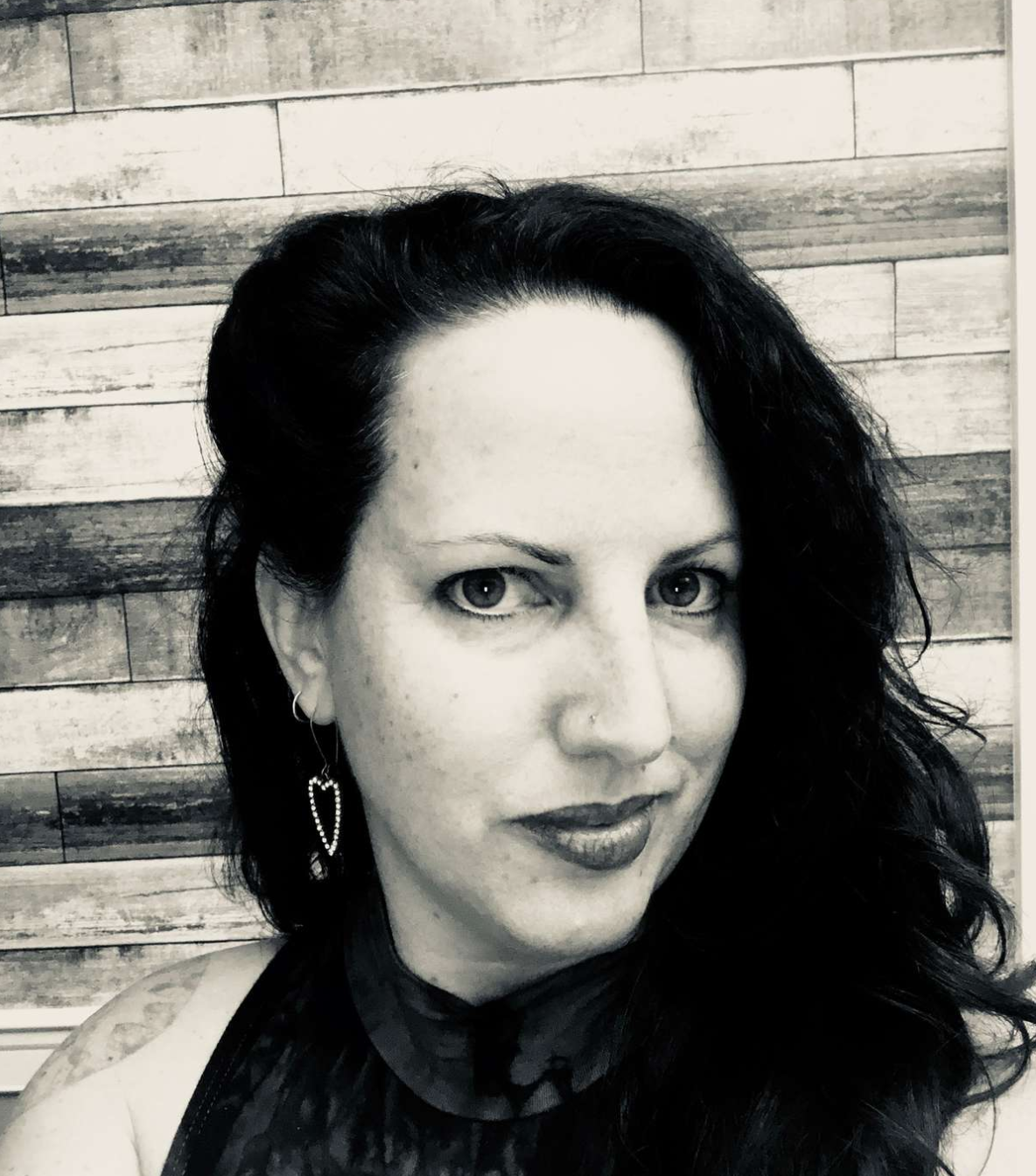 Kira has been playing with clay since she was a little girl, learning polymer clay and pottery and then going on to earn a B.S. in Art Education.
Your Teachers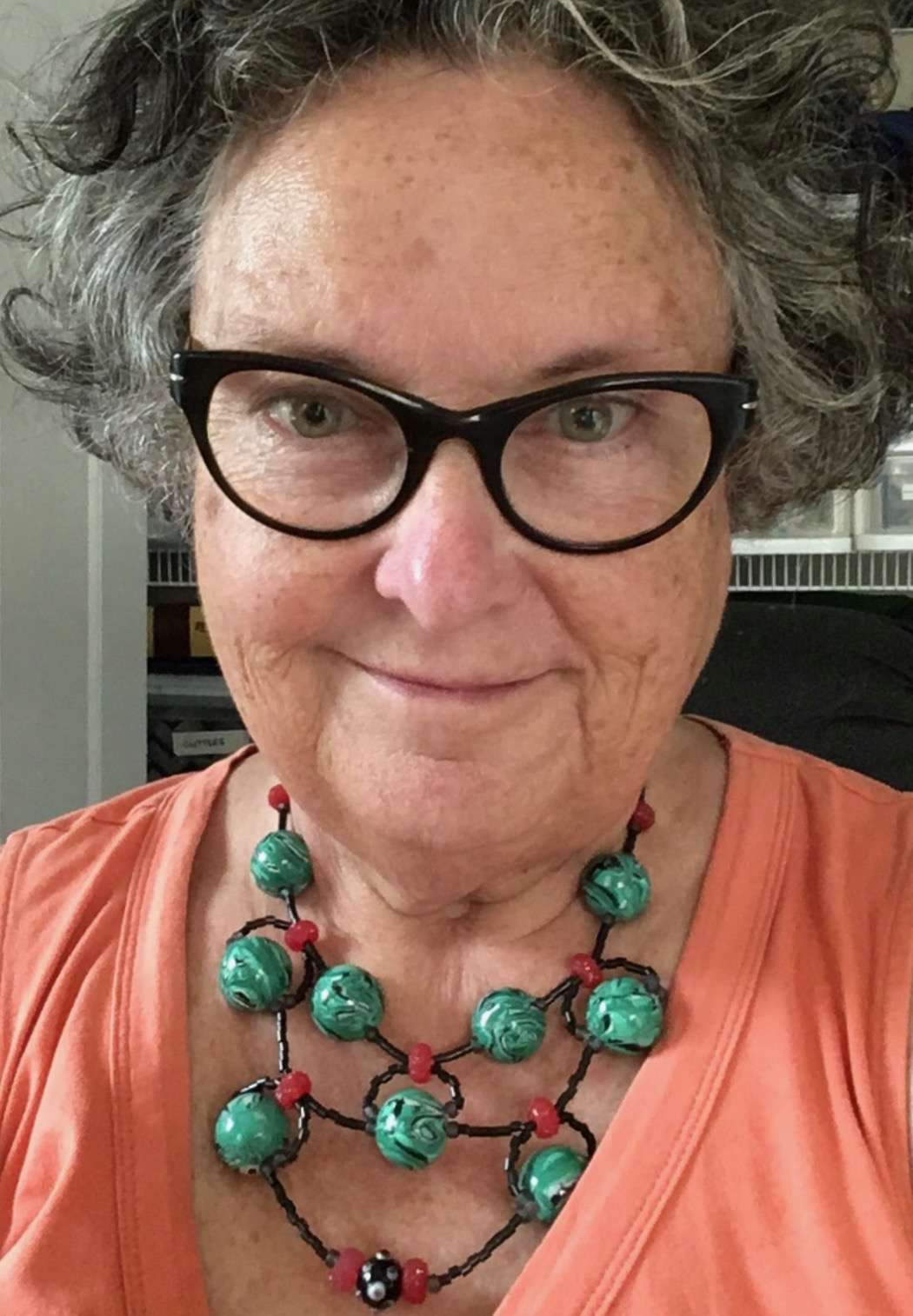 Suzanne Ivester
Suzanne Ivester has been an avid polymer clayer for all of this century, and her interests include a little bit of everything. She is a past president of the International Polymer Guild and is the author of the Polymer Chef column in Polymer Cafe magazine and Polymer Clay Universe. Suzanne lives in Fernandina Beach, Florida, and is a member of the First Coast Polymer Clayers Guild in St. Augustine.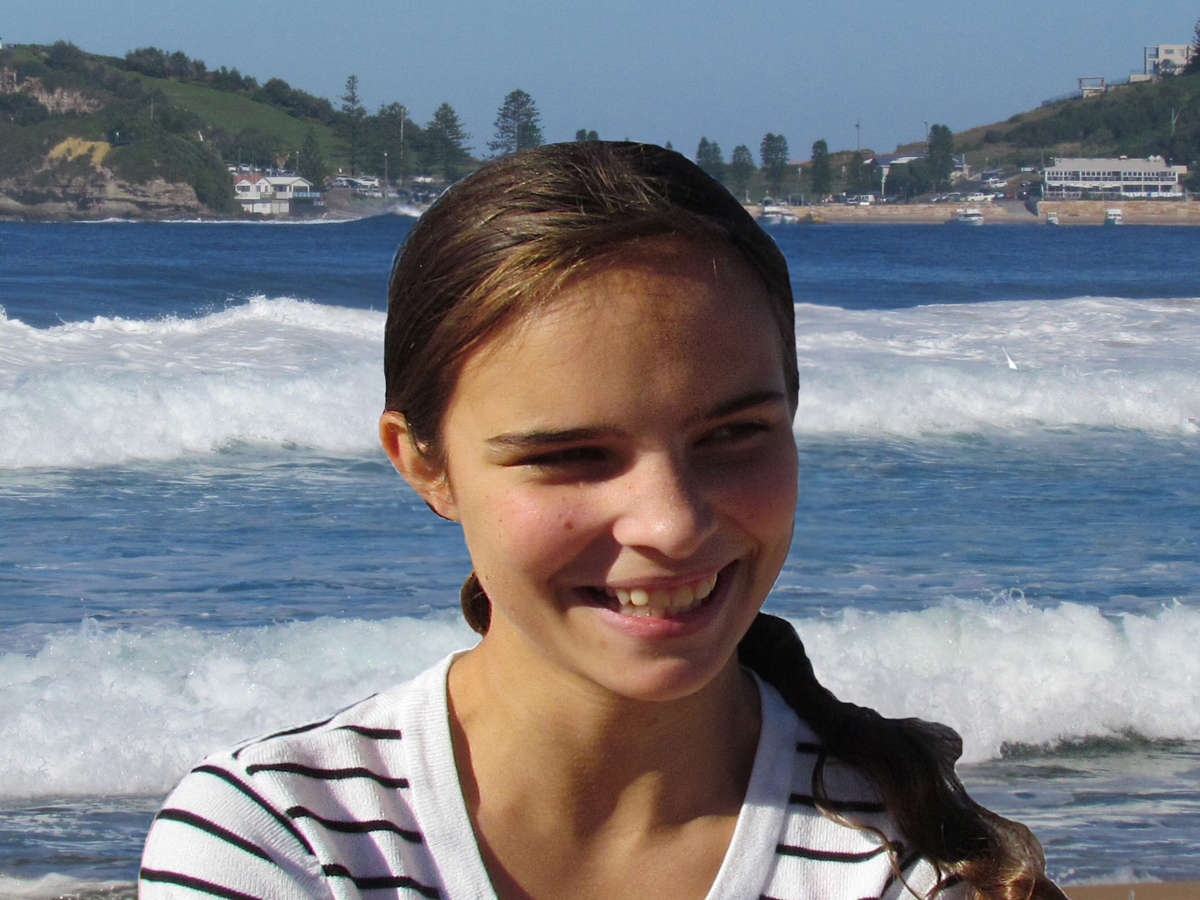 Samantha Burroughs
Hi everyone, I'm Samantha, the creator of JessamaTutorials.com. I also have a youtube channel, a patreon account and an etsy shop where I sell cutters, texture stamps and tutorials. I love all things polymer clay, cats and nature.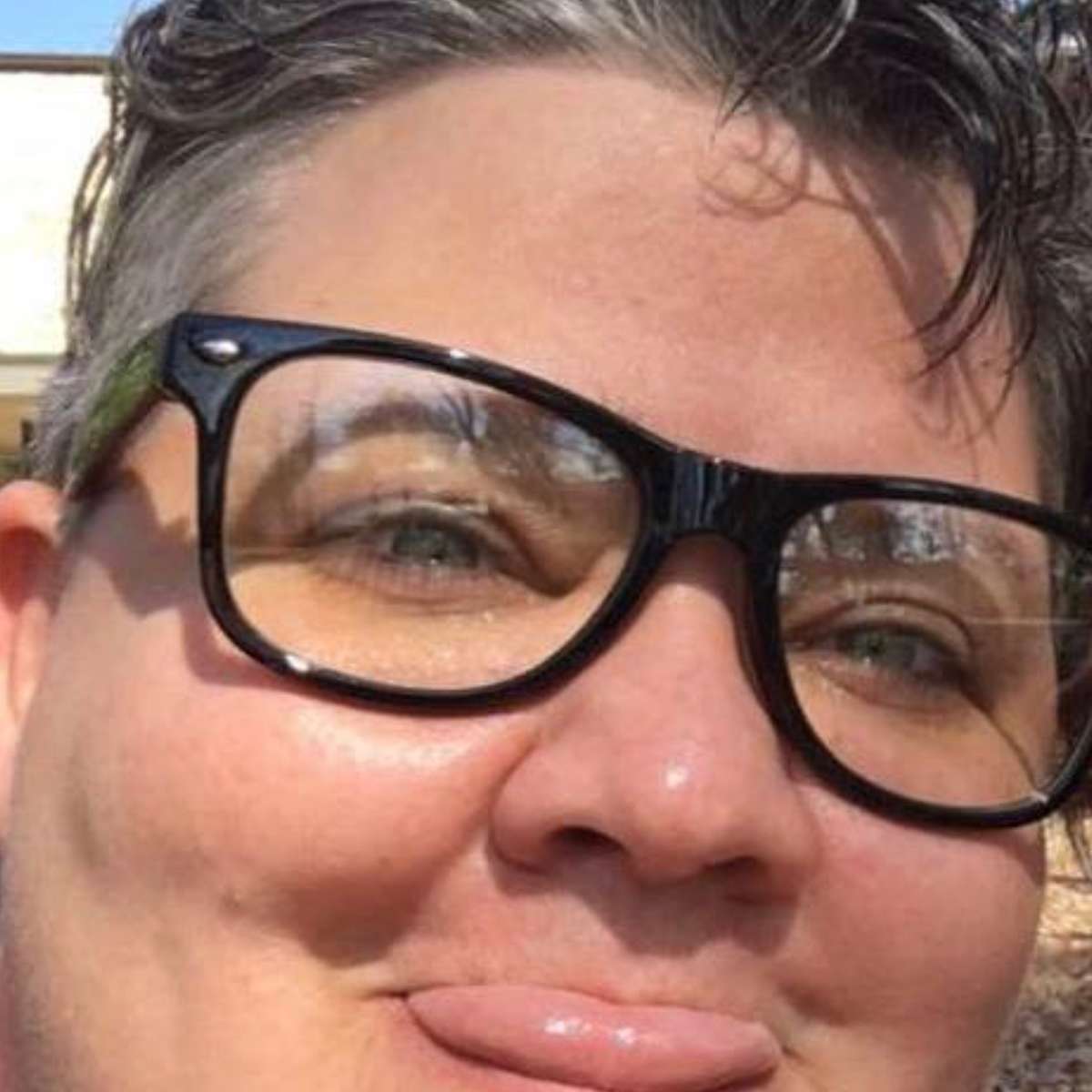 Amy Hucks- SuperSculptor
Amy is a member of the Indiana Polymer Clay guild. Her goal is to travel the world with her wife Jennifer and teach others the fun of polymer clay.

Amy sculpts all kinds of fun, magical and fantasy style faces, creatures, and critters.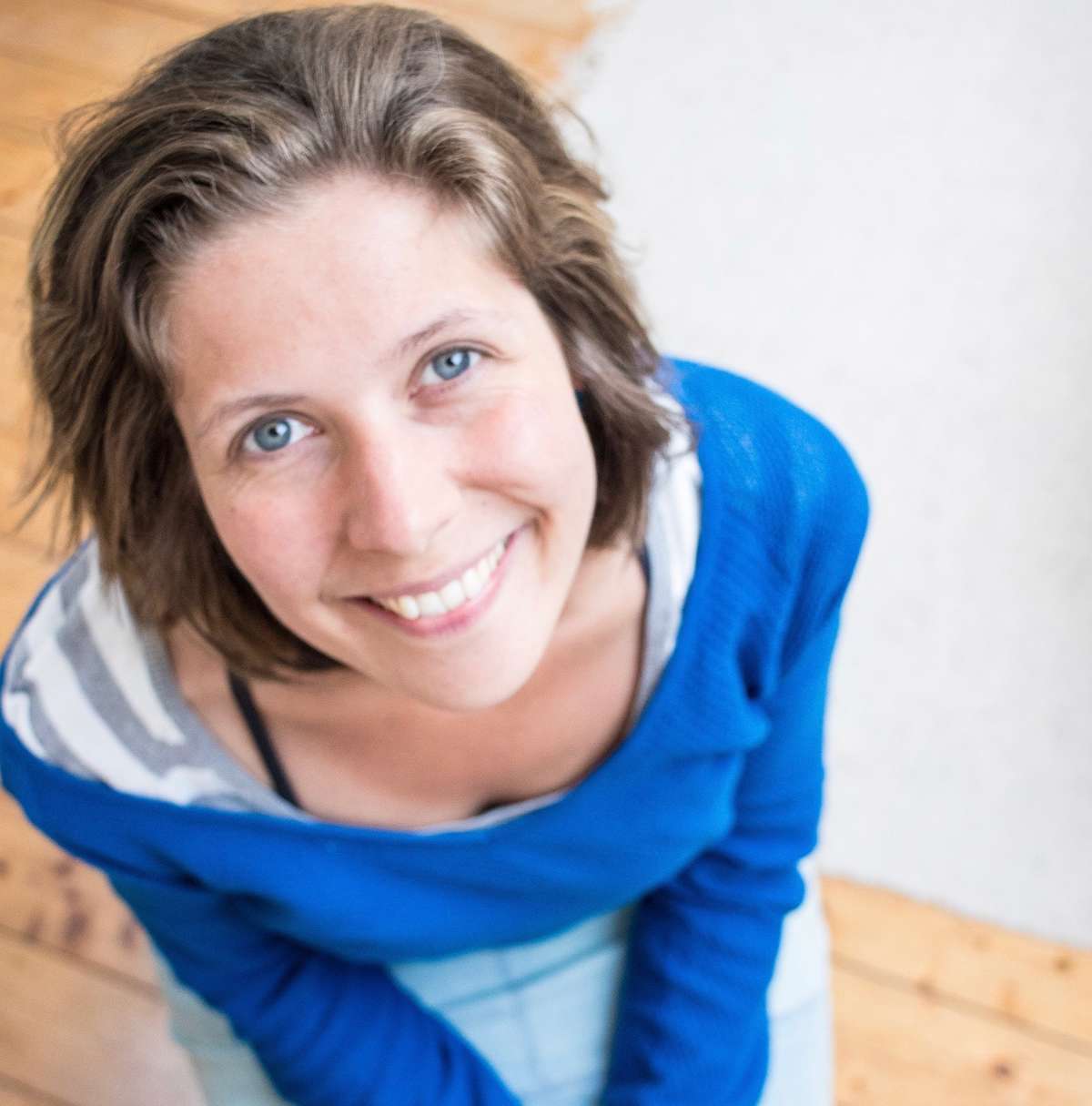 Stephanie Kilgast aka PetitPlat
Inspired by natural forms, Stéphanie Kilgast's artwork is an ode to nature and its current biodiversity. She grows colorful organic sculptures on human-made objects, celebrating the beauty of nature in a dialogue with humanity, questioning the lost balance between human activities and nature.

She built her reputation and her sculpting skills around hyperrealistic miniature food sculptures. Her work has been exhibited in America, Asia and Europe.

In 2015, she worked on her « daily veggie challenge », an artistic project where she sculpted a different miniature vegetable or fruit every day to present the vast quantity of edible plants, while encouraging to reduce our meat and animal products intake for environmental reasons.

French, Born in 1985, Frankfurt am Main, Germany, currently resides in Vannes, France.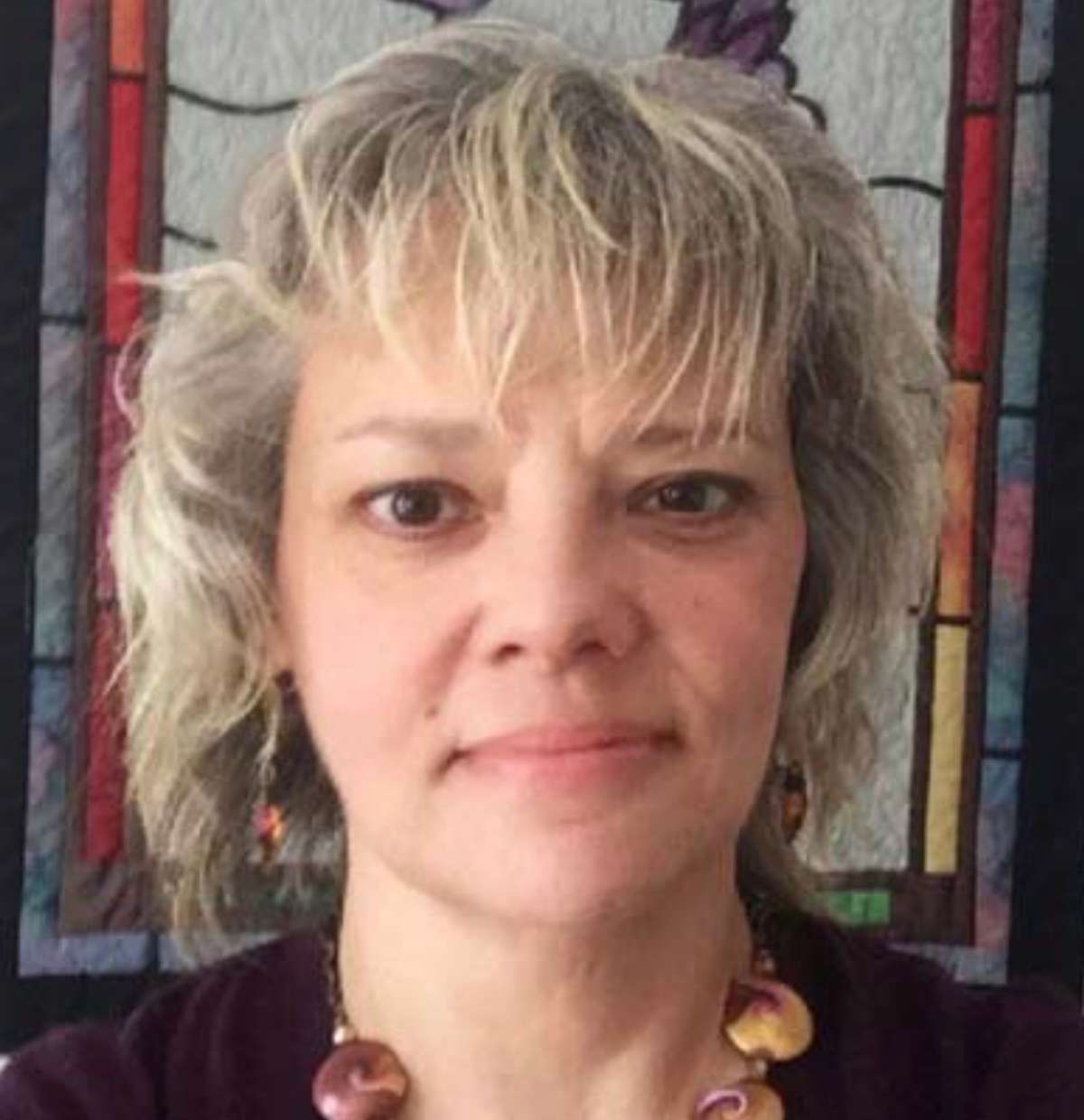 Sandy Huntress
Sandy has rarely met a craft she didn't like, and has all the gadgetry to prove it! You'll often find her in her studio where she designs and makes polymer clay sculptures, dragons, wire work, beaded jewelry, garments, and quilts, just to name a few. You can read all about Sandy's creative adventures at her blog, KeepsakeCrafts.net. She also has a YouTube channel where you will find new polymer clay and jewelry video tutorials each week.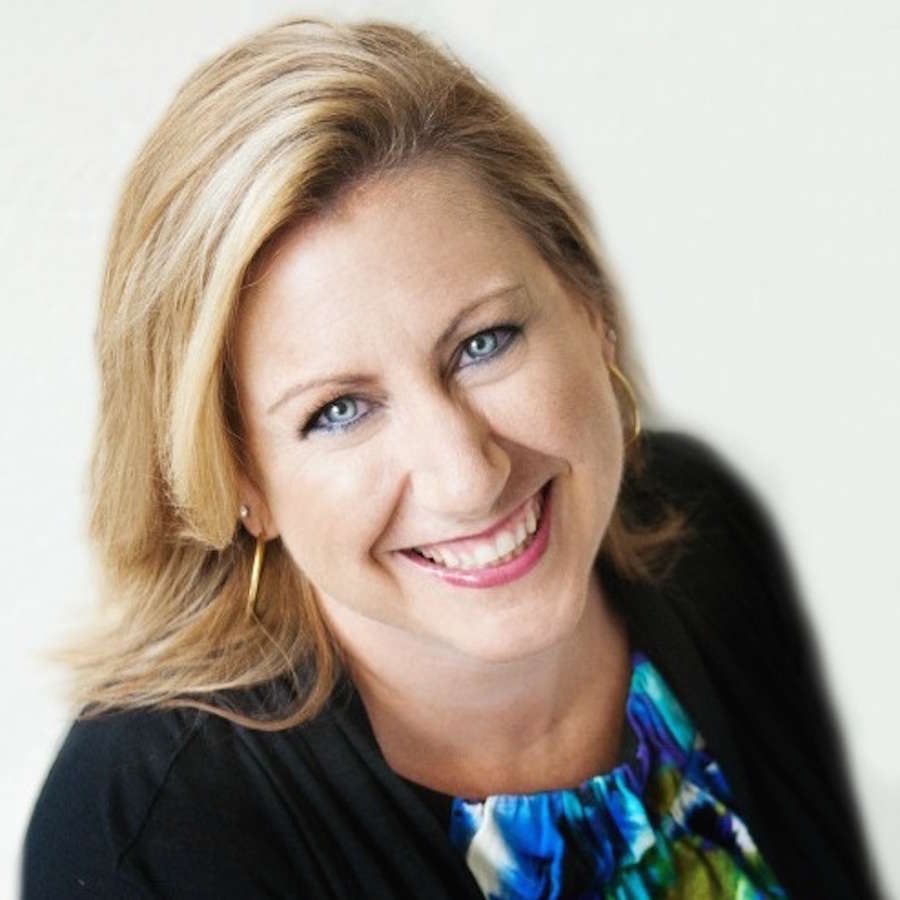 Cindi McGee
Cindi McGee is a multi-published mixed-media artist. Over the past 17 years, she has enjoyed experimenting with many types of mixed-media, but has found her true passion lies with polymer clay. Her motto is "Dare to be Different." Her style is diverse, and she is always seeking new techniques to master.

Cindi shares her art via her blog - Cindi McGee Behind These Eyes, her Etsy store, Facebook, YouTube, and on various other websites and social media platforms.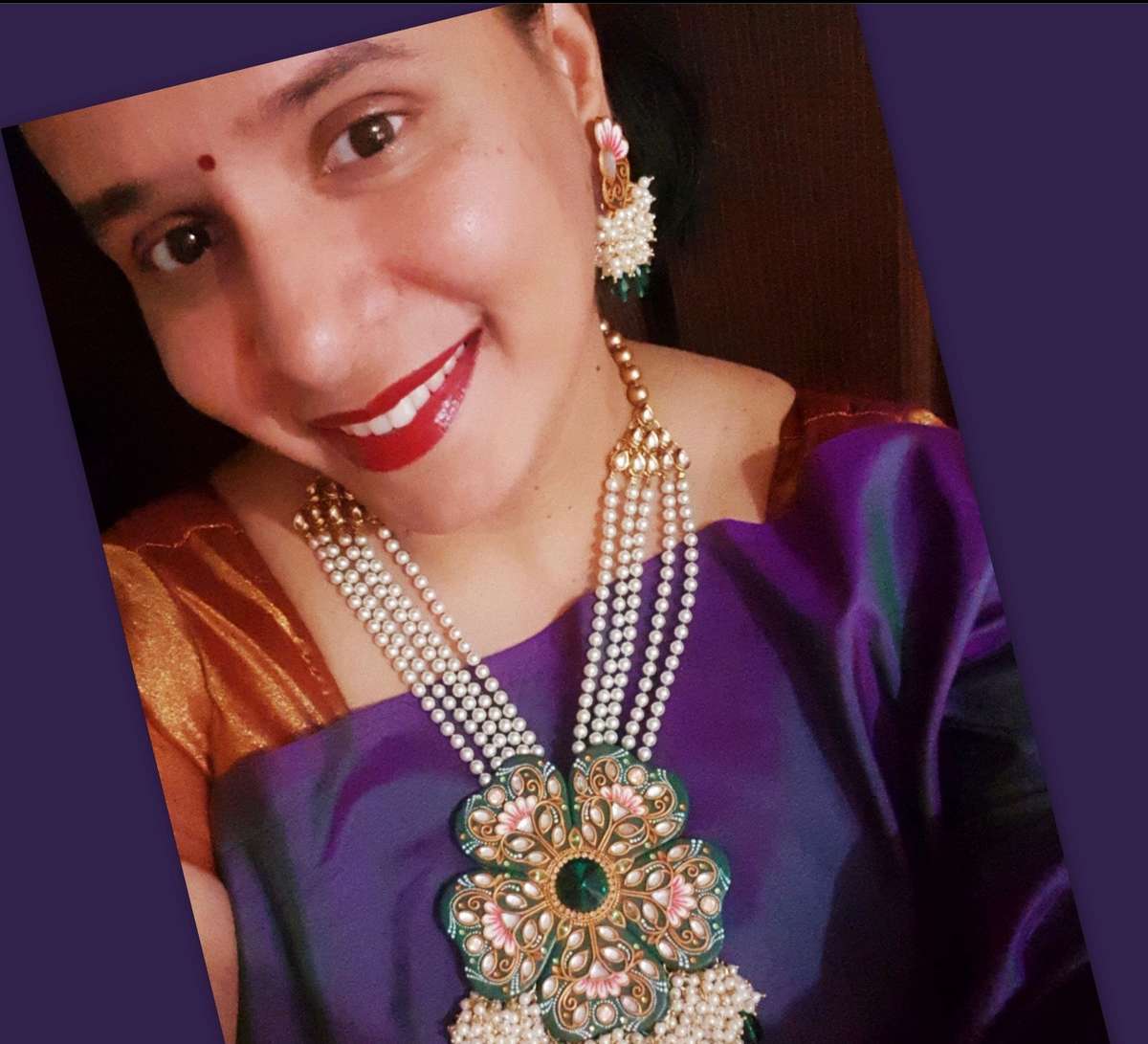 Pritesh Dagur
Pritesh, a scientist by training and an artist by passion, has worked with one medium or the other nearly all her life. After finishing a PhD in Chemistry, she saw her calling in application of her science knowledge to Art. After working extensively with paper quilling and layered paper, polymer clay happened rather by accident than anything else. For past 4 years, she's been working with clay, largely focussed on coming up with new techniques. Residing in Bangalore (India), she has a Team of equally dedicated and talented artists working with her at Art'zire, her design studio.
Polina Foteva
My name is Polina Foteva and I am a Bulgarian polymer clay artist based in Budapest, Hungary. My adventure with polymer clay started around 2010. Of course I fall in love with the medium, who wouldn't? I was constantly experimenting with techniques, textures, colors, you name it! I felt like a little kid who discovered a good book and dived in it's endless world. Until I found the embroidery technique. Then my heart and soul were stolen. I embraced the technique, shaped it in my own liking and made sure I perfect it. Now I am here to share my knowledge :).
If your curious about my portfolio, check out my Instagram - @polina.foteva.art or my Facebook page - Polina Foteva Art (@polina.foteva.art)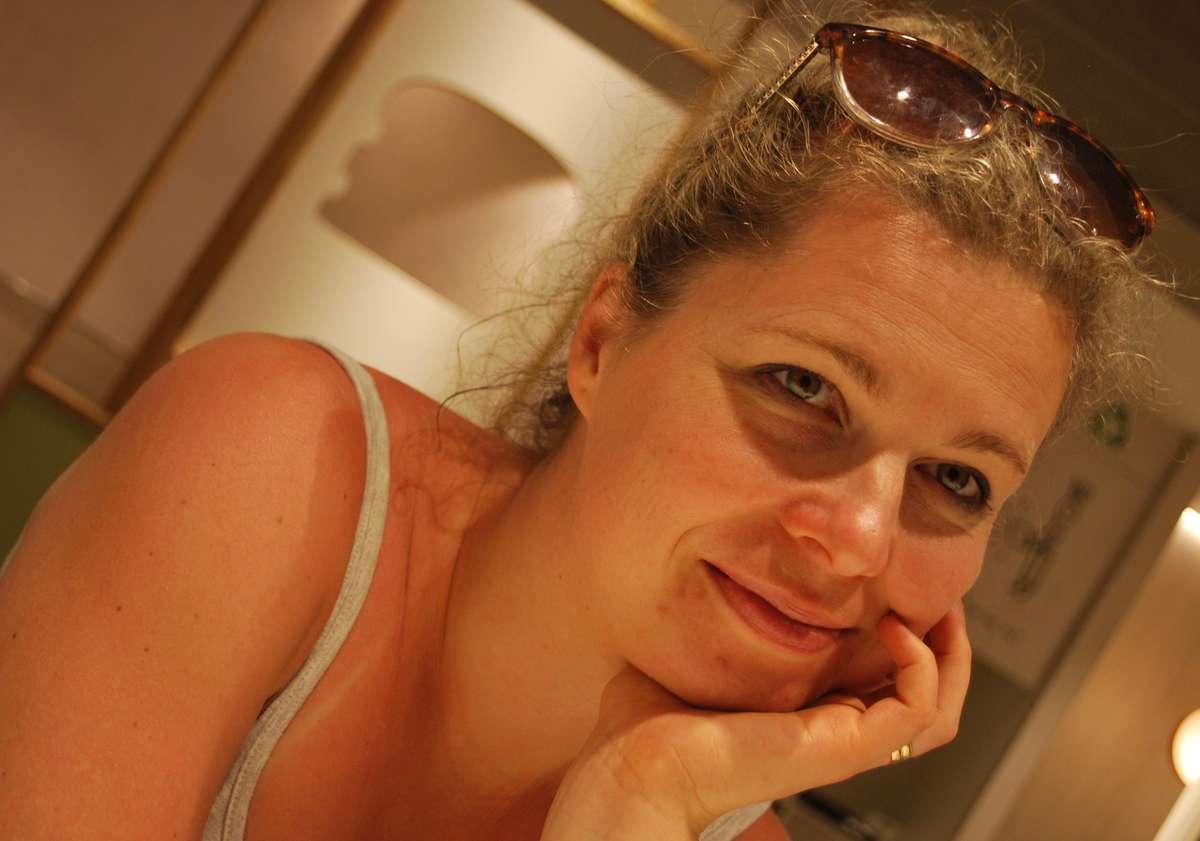 PANARILI
Enjoying life high in the mountains, grown up in a big city, cannot imagine life without family and clay-playing. Love new challenges and experiences, but not adrenaline provoking) I got acquainted with clay 8-9 years ago and ever since we are friends. Still exploring new possibilities and get inspiration from nature, colour and other crafts. Love simplicity in achieving cool effects.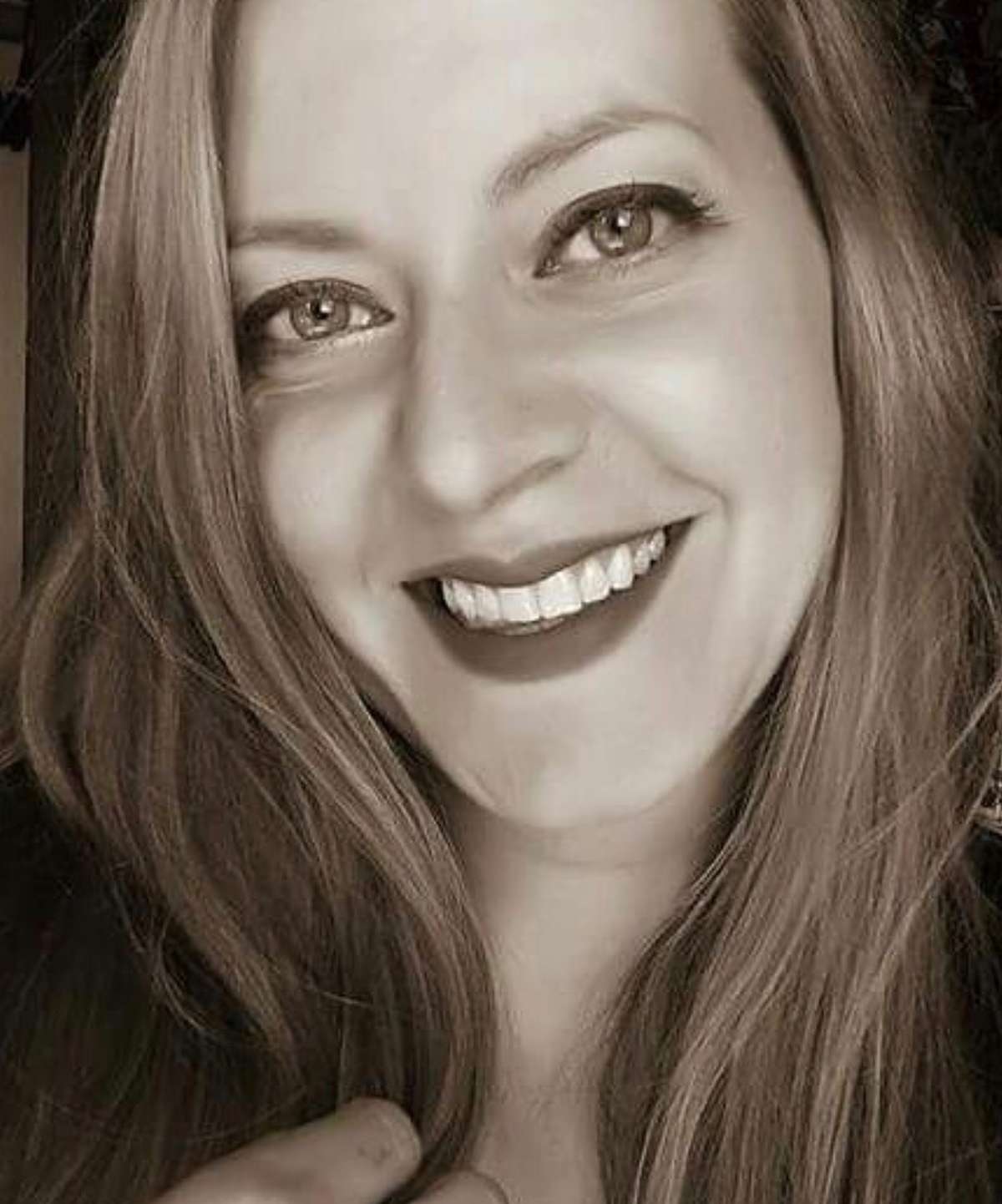 Sherri Thompson
I'm a mixed media artist from the Upper Peninsula of Michigan. I make one-of-a-kind pieces of art. I have created in various forms as far back as I can remember. Making things that people enjoy as much as I enjoy making them is the best feeling! Creating gives me life and being able to manifest what is in my brain with polymer clay brings me so much joy!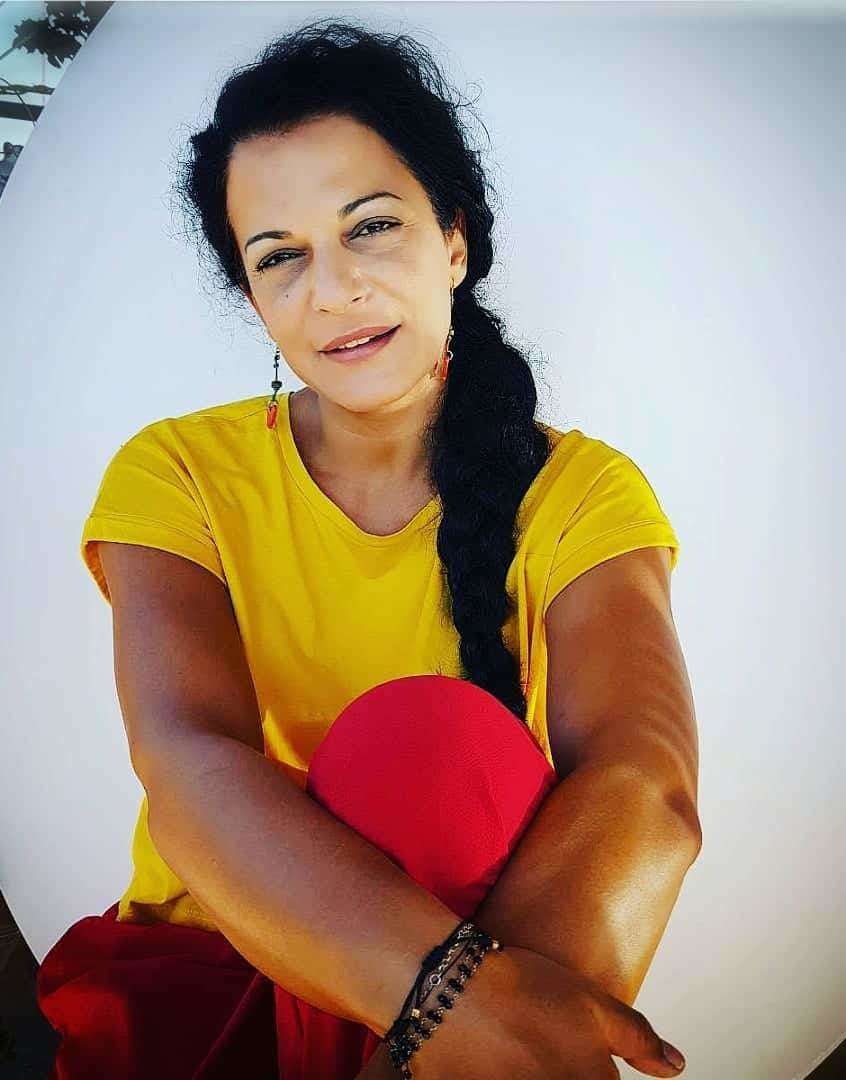 Arieta Stavridou
Arieta creates beautiful textured and layered polymer clay artwork from her studio in beautiful Cyprus.
She is a mother, traveller, and creative soul.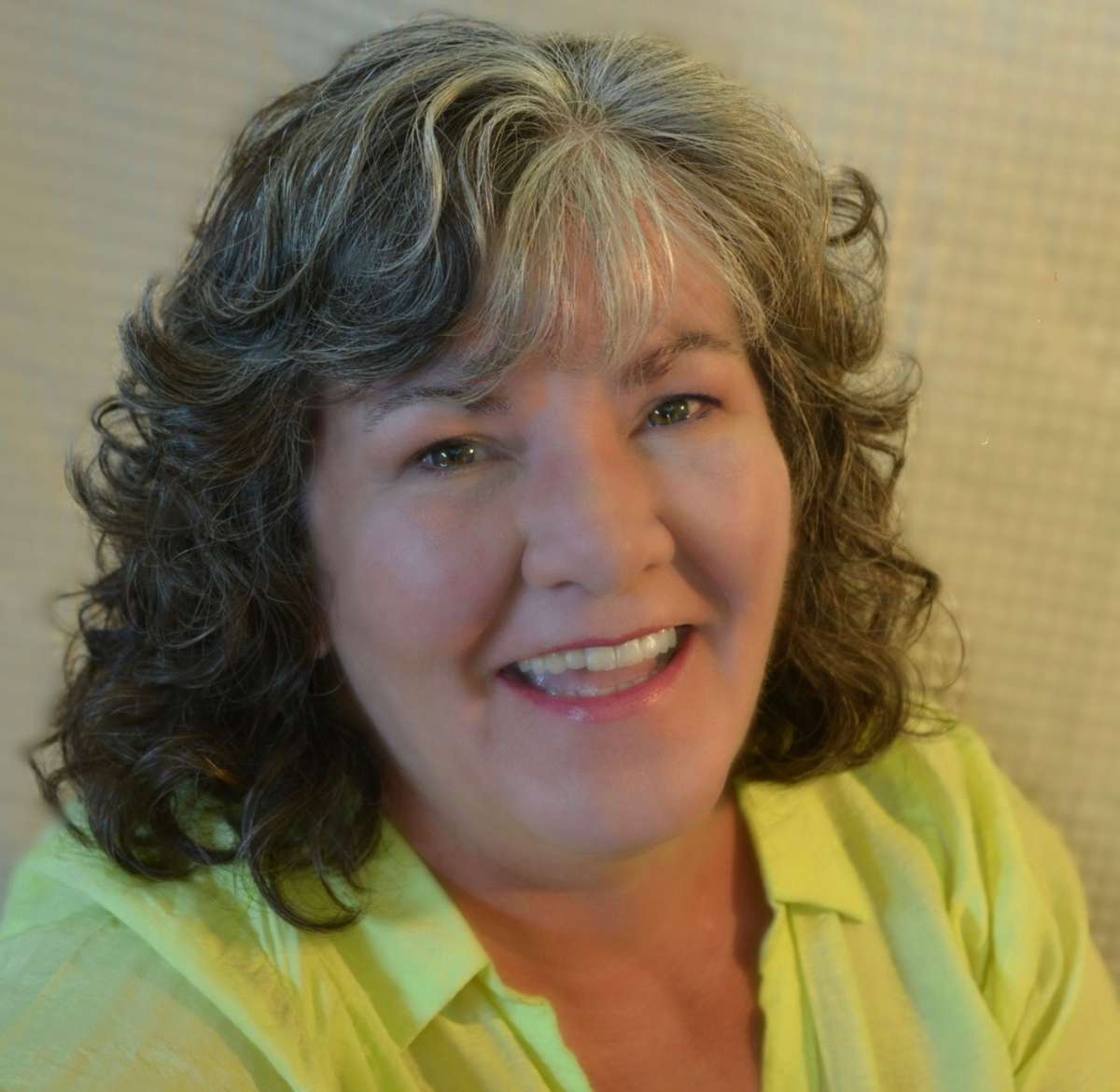 Cynthia Gougian
Cynthia might look like a mild mannered medical coder, but her alter ego is a wild, gypsy artisan. The day job just keeps her in art supplies. Friends and family strongly suspect she was one of Santa's elves in a previous lifetime, possibly the one responsible for the "misfit toys". She is hard wired to create, and will do just that in any medium she can get her hands on. But, polymer clay remains her favorite medium. She loves color, sparkly things, interesting lines, whimsy, laughing out loud (mostly at herself), children, dogs, and "As seen on TV" products. She is a baker of tasty cakes and cookies, and all around nifty little chief cook and bottle washer.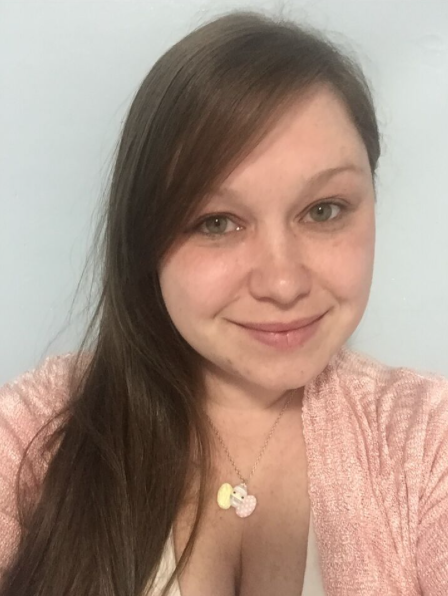 Jessica Hager
Jessica has been crafting for as long as she can remember, but her experience with polymer clay began in 2008. She has been creating miniature foods since then and has participated in a number of craft shows in New Jersey and Pennsylvania. Her Etsy shop, Frosted Treats, has been open since 2008 and she has had the opportunity to create custom jewelry and gifts for people across the United States and abroad. When she is not crafting, she teaches middle school social studies and spends time with her husky, Summer.
Clay faces provided by Layl McDill www.ClaySquared.com